When remodeling a kitchen, there are many selections that need to be made to pull everything together. For some, the choices are overwhelming. Although choosing a sink faucet may see like a "no-brainer" initially, the faucet really sets the style for kitchen hardware and even lighting selections. Designers like to think of kitchen hardware and faucets as the jewelry which adds a distinct personal statement to the style of the kitchen.
Here are some of my favorites:
The Rohl farmhouse sink is a classic as far as sinks go. The Rohl bridged faucet is a beautiful choice for a very traditional, elegant kitchen. The most popular choices for finish are chrome, satin nickel, polished nickel and Tuscan bronze. The faucet is also available in polished brass (Inca brass) – so be prepared to see a design trend back to brass. I really like the satin nickel in this line, which gives the feel of a true aged silver. I also love the polished nickel which has a warmer undertone than the chrome. Be prepared to pay extra for finishes other than chrome in any faucet you select. The Tuscan bronze in this line is a "living" finish, which means the color will change with use and is not covered under warranty. It will age naturally and may have some oxidizing which can create some green tones. If you like the old-world feel of a handcrafted metal – the bronze may be a good choice. If you want no-fuss, stick with the chrome.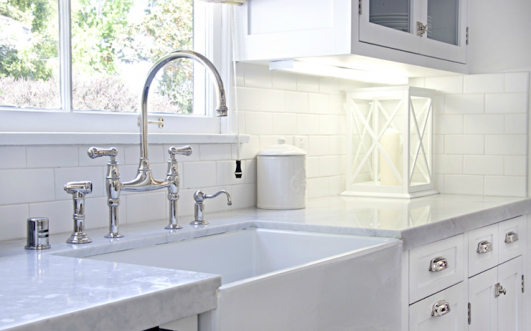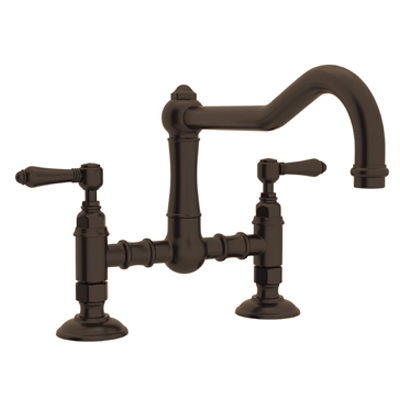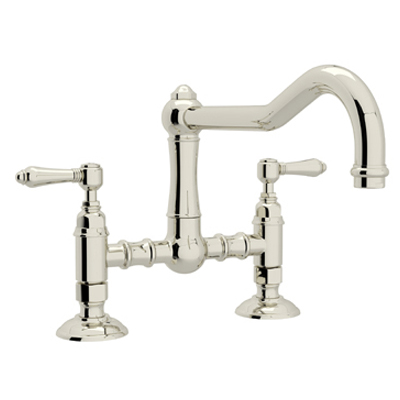 If you want to add a contemporary edge to your kitchen, my favorite faucet is the Brizo Venuto. It is available in a hands-free touch option, which is a great feature if you are a hands-on cook! Its slim line and profile is elegant and simple. The designer of this faucet, Judd Lord, was inspired by a trip to a Milan Sake Bar and the elegant shape of Japanese hair sticks. This faucet is available in stainless steel, chrome and black finishes. Brizo is the designer line of Delta.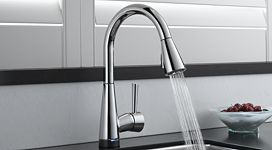 I've shared a few of my favorites and I hope I've given you some food for thought. There are so many options in kitchen faucets that it's worth the time to take a look at a design and finish that will compliment your style. After all, if you're working at the kitchen sink, it helps if it's beautiful!