Our Warminster, Bucks County clients approached us with dreams of a new, more welcoming kitchen. A young family with a busy schedule, they wanted to update the look of this space and add in more functionality. Together, each element of this kitchen was carefully chosen and designed to give this busy family a gathering place to create life's most precious memories.
Bright and Breezy Open Floor Plan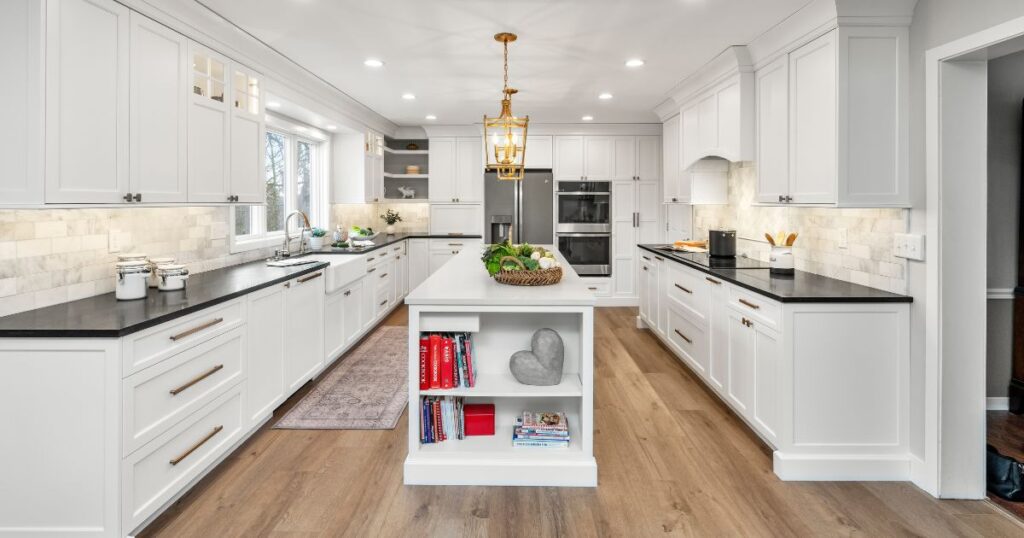 These Bucks County homeowners originally reached out to our team because they felt like their kitchen was dark and cramped. They longed for more storage and wanted an updated feel to the space which felt more bright and modern. To provide them with this kitchen facelift, we created a plan to open up the floor plan and remove the soffits around the window, which had been preventing sunlight from entering the space.
From Cabinets to Countertop, Crisp White Touches Add A Polished Aesthetic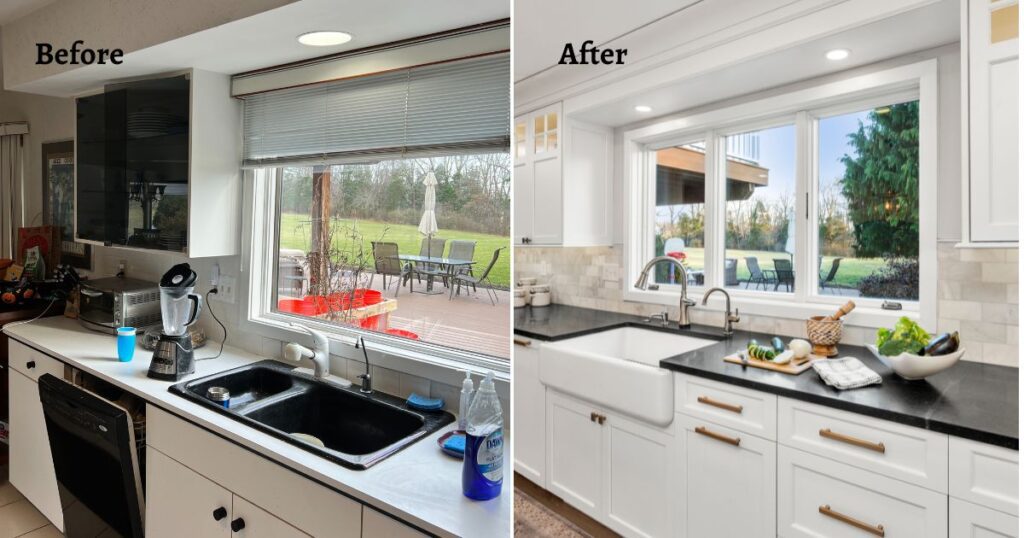 As you can see by the before and after kitchen photos, these changes truly transformed the look of the space, bringing in a new crisp, clean, high-end look. The new kitchen features Luxury Vinyl Flooring in a warm, spring oak tone.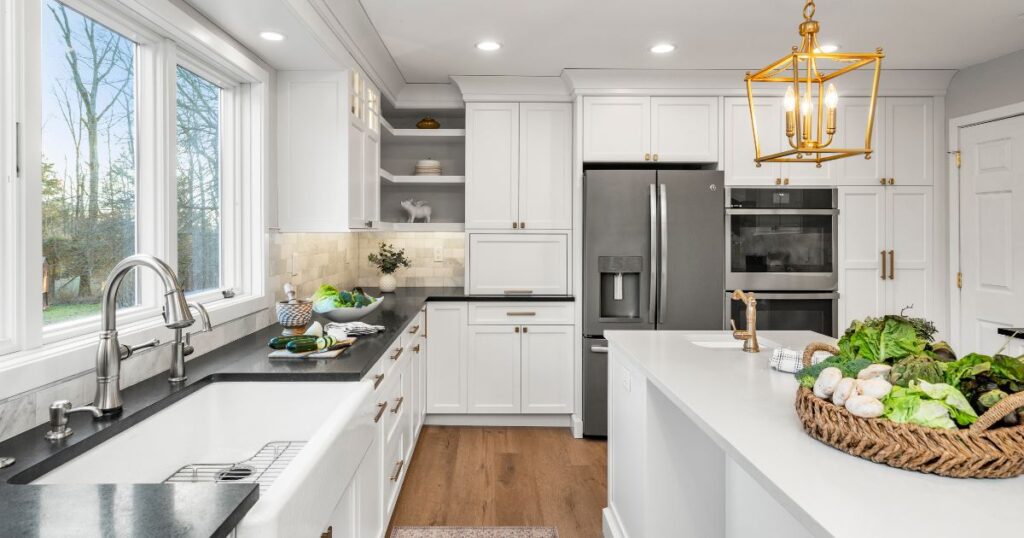 White custom shaker cabinetry with brushed gold hardware is complemented by two types of countertop finishes. Natural black stone creates a dramatic look around the perimeter of the kitchen, while white quartz along the ample center island keep the bright and open atmosphere consistent. To add accent and task lighting, we installed under cabinet and interior dimmable lighting, allowing the family to instantly set the right mood for the space.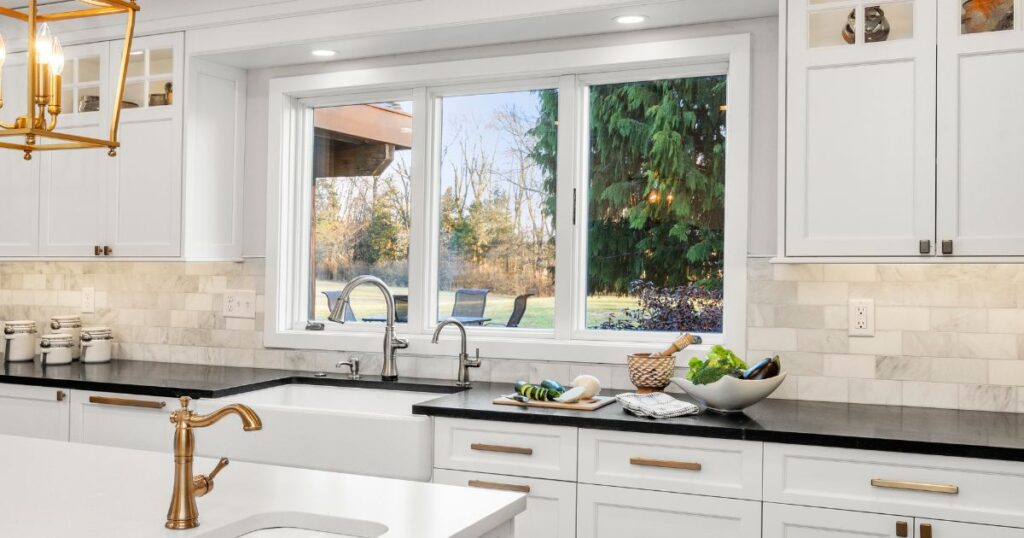 To allow more natural light to shine in, we installed a new user-friendly set of three windows above a new farmhouse sink, replacing an oversized fixed window which didn't allow for easy opening. Natural Carrara marble lines the perimeter wall, providing a backsplash with its soft, natural tones.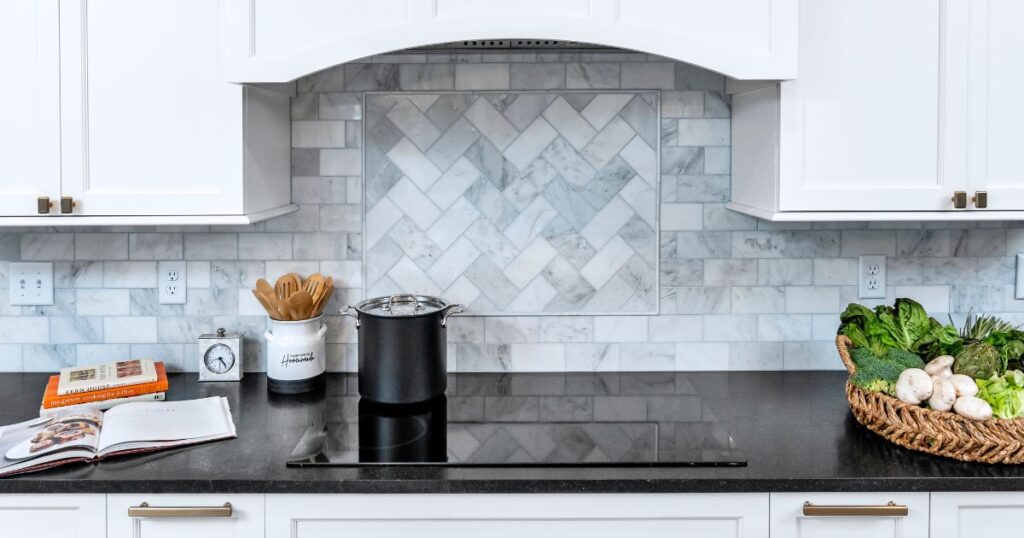 Across the room, we made sure to create the ultimate meal prep area. A cutting-edge induction cooktop sits flush against the countertop and is framed above by a generously sized arched hood, which we custom designed to perfectly match the style of the cabinetry. Located just a pivot step away from the cooktop, we installed a new refrigerator and stacked ovens.
Storage Solutions Throughout This Bucks County Kitchen
Because this Warminster family approached us for help with their kitchen storage issues, we wanted to make sure we fully utilized the space for maximum storage potential. Our goal was to make easily accessible storage that was convenient and efficient for this busy family.
A Kitchen Island Brimming with Storage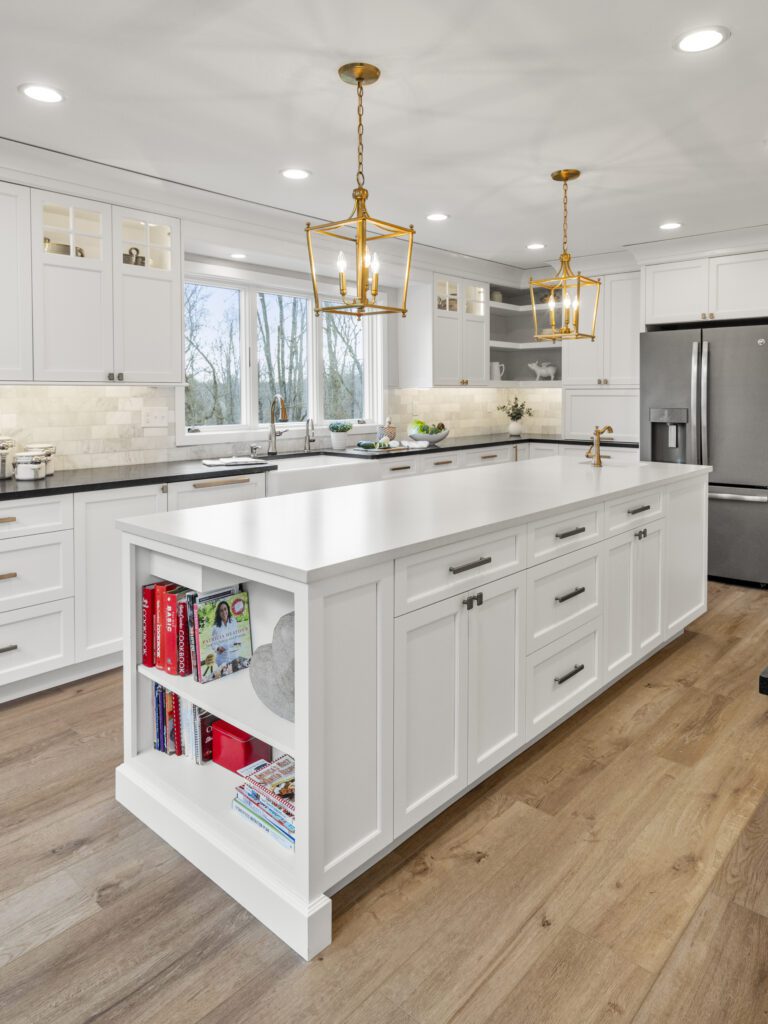 To increase the storage potential for our clients' kitchen, we made sure to include a generously sized island which features plenty of useful places for all of their necessities. This all-white architectural element is centrally located within the space. To give it a built-in feel, we crafted it with touches of trim to give the impression of a custom-built piece of furniture. The side shelving feature will provide the family with plenty of room for their favorite cookbooks and beloved decorative pieces. An elegant prep sink on the opposing side of the island adds further functionality and is conveniently located adjacent to the appliances. For the finishing touch, we installed two large gold chandelier-style pendant lights above the island for an eye-catching touch of elegance which elevates the entire space.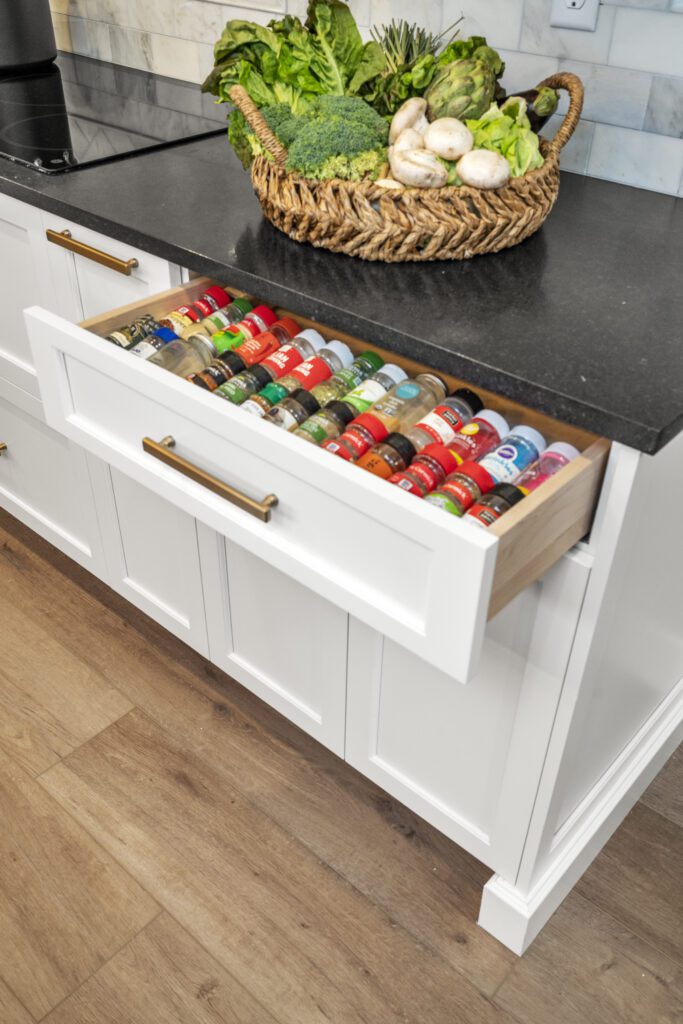 Our clients love the unique and innovative storage solutions we present to solve their space issues. And our Warminster clients were no exception. From a floor-to-ceiling cabinet area to a matching appliance garage, we made sure each and every storage need was addressed. Open corner shelving and mullion glass doors provide places to show off the family's personal style. And thanks to all of the options that exist in custom cabinetry, we were able to provide very specific solutions to the homeowners' storage issues, such as a pull-out spice drawer that lets you instantly get a full view to quickly find what you're looking for.
Enhance Entertaining with a Convenient Beverage Center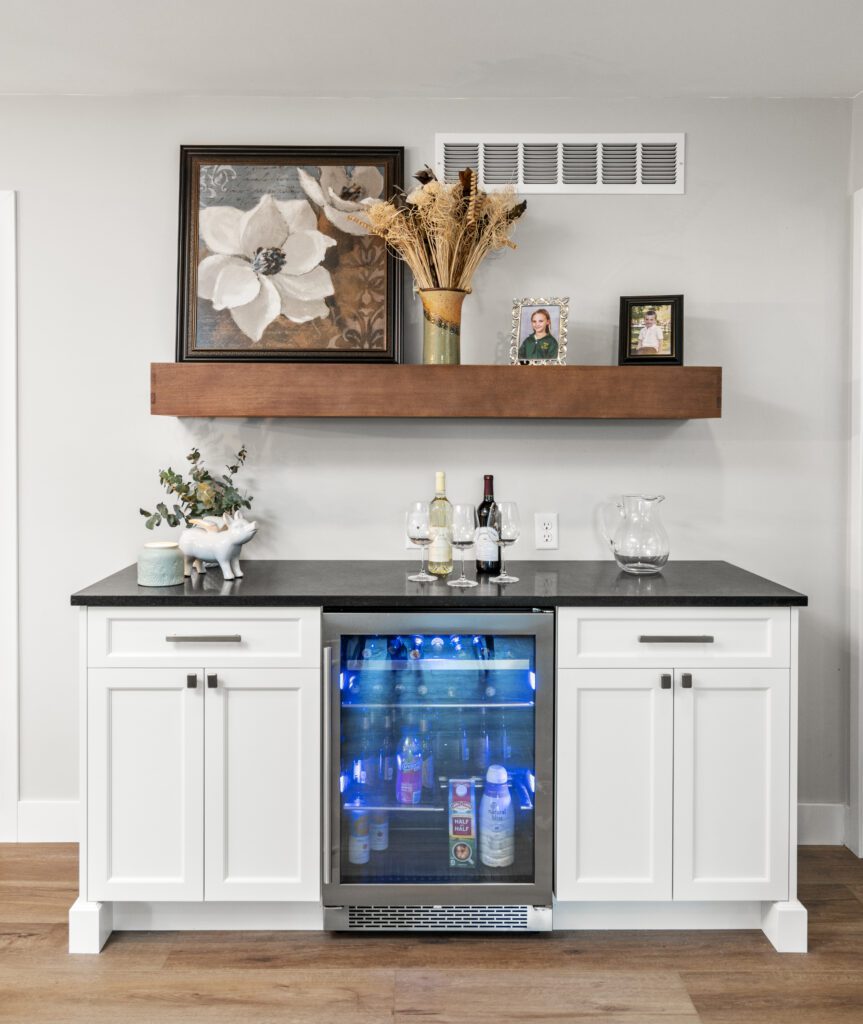 A finishing touch to this Bucks County kitchen remodel, the new beverage nook we created is sure to keep this busy family happy for years to come. Now, guests and family members alike can access drinks without disturbing the cooks in the kitchen. Featuring matching white cabinets and black countertop that stays consistent with the look of the rest of the kitchen, a mini fridge was installed for effortless self-service. This is topped with a gorgeous extra-wide plank floating shelf with under-lighting, which warms up the space and provides the family with a stunning way to show off their art and photos. A beverage nook is becoming increasingly popular with our clients because of the ease of entertaining it creates while providing a daily convenience to the homeowners.
Creative Contracting can help you get the bright and open kitchen you have been longing for. Contact us today to schedule a consultation!