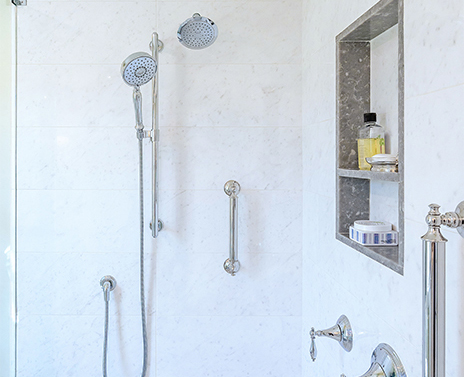 Planning an age-in-place renovation is a great way to make your home more comfortable and accessible as you get older. Here are some of the key aspects you should consider when planning your remodeling project in North Wales, PA.
Consider Your Stairs
According to Comfy Living, baby boomers and Gen-Xers make up more than 80% of all homeowners who are renovating. Many of these homeowners are embarking on aging in place renovations since they are looking to stay in their homes and make them more accessible. Those who live in multi-story homes should consider adding features to their stairs such as stairlifts, ramps, and handrails. These features will make climbing the stairs easier for those who have difficulty with mobility as they age.
Choose the Right Flooring
It's important to choose the right type of flooring for any renovation, especially when you're getting older. While carpet is a popular choice, it can be difficult to navigate with mobility aids such as wheelchairs and walkers. Hardwood floors are generally easier to navigate and won't create an obstacle for those who use helpful tools. Additionally, non-slip tile floors are also a great option since they provide extra traction to reduce the risk of falls.
Add Essential Safety Features
When renovating your home, you should also consider adding grab bars in the bathroom and shower, which will help prevent slips and falls. You may also want to add rails or handrails on stairways and ramps. Finally, you should also consider adding motion-sensing lighting in hallways and stairwells to make it easier to see when navigating your North Wales home at night.
Make Sure the Renovation Is Accessible
It's important that any aging-in-place renovations made to a home are accessible for everyone in the household. Doors, pathways, and other areas of your home should be wide enough to easily accommodate wheelchairs and walkers. Additionally, doorknobs should be replaced with lever handles since they're much easier to use for those with limited mobility.
Consider Home Automation
Finally, you may want to consider home automation as part of your renovation. Automation will allow for the control of various items in your home, such as lights and temperature, from a single remote or smartphone app. This addition can be especially useful for those with limited mobility who may not be able to get up and adjust settings manually.
By considering these aspects when planning an aging-in-place renovation, you can ensure that the renovations are tailored to meet the needs of everyone living in the home. Get in touch with our team today to start planning your next home remodeling project in North Wales, PA.