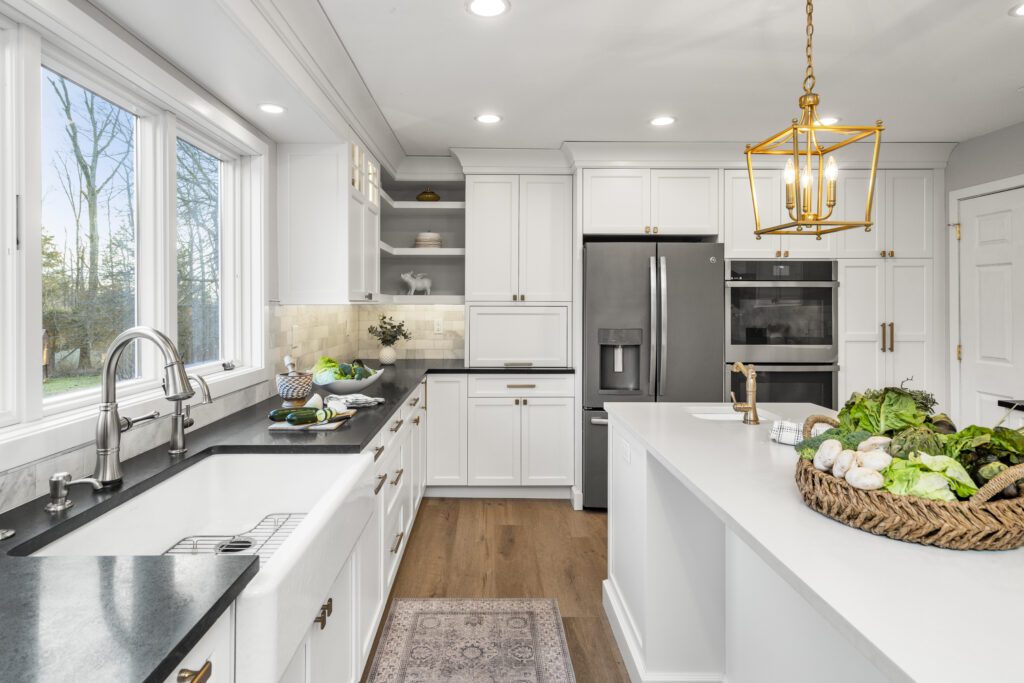 Navigating the winding path of a major home renovation can lead to a plethora of questions. One hot topic in the kitchen realm? The color conundrum. White kitchens, while wildly popular, often create hesitation among homeowners. Fear not! White kitchens aren't just a trend; they're a timeless staple. Worried your white haven might lack character? Think again. The possibilities to enhance your all-white kitchen are as abundant as the spice aisle. Here are a handful of our favorite kitchens, proving that a white kitchen is the ultimate canvas for versatility.
Dress Up Your Kitchen With Seasonal Colors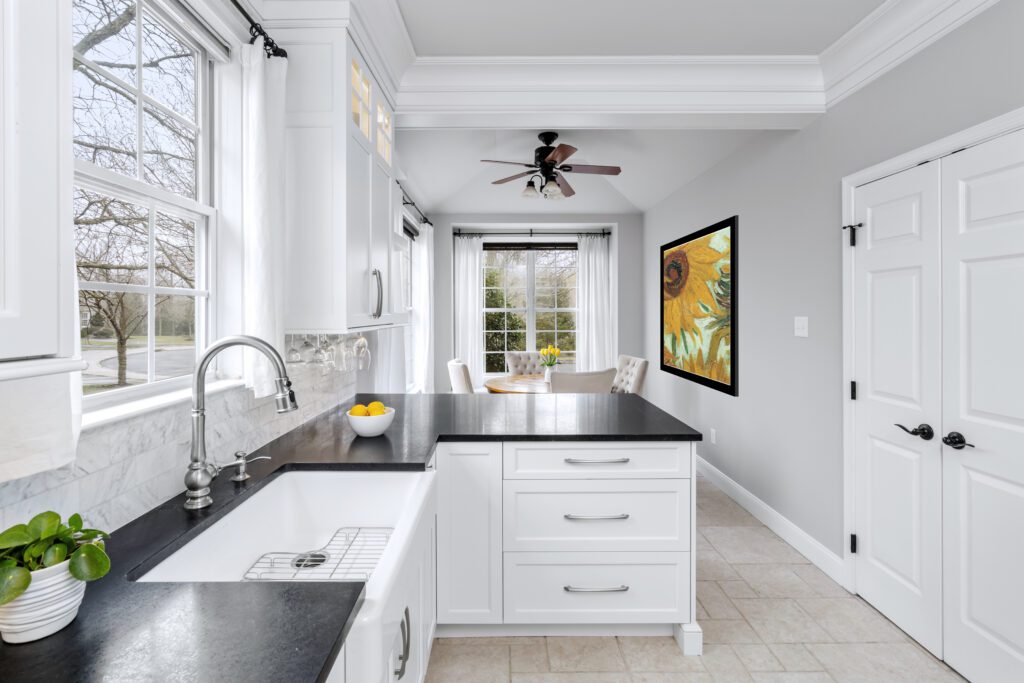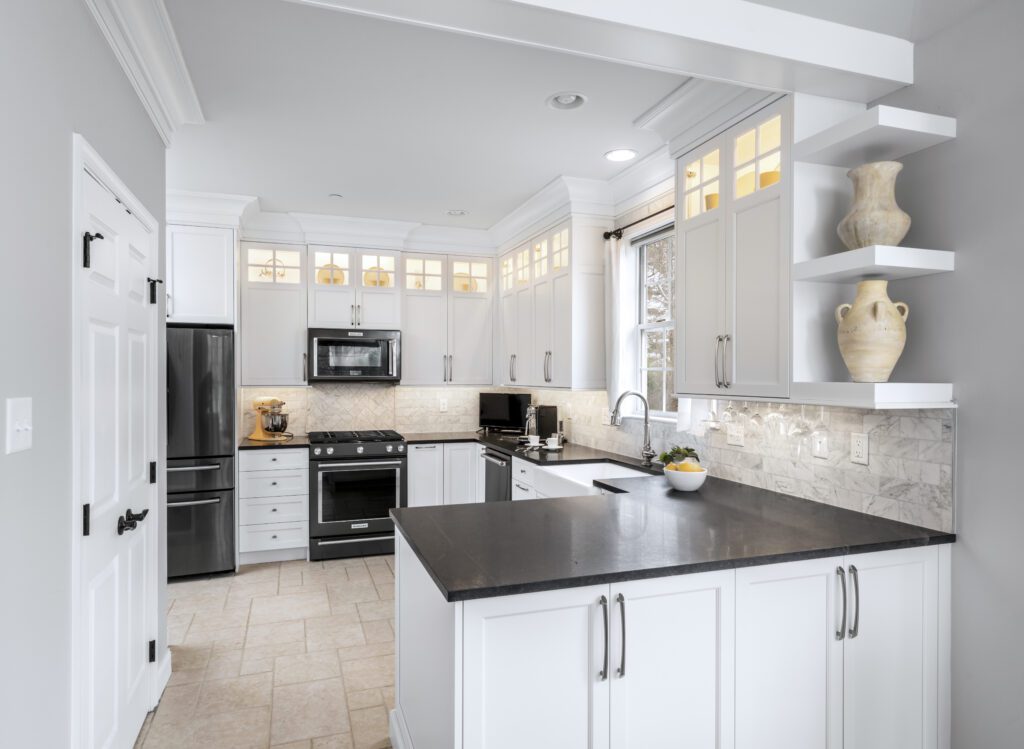 This kitchen features a clean white and black design with custom cabinetry, providing an ideal canvas for adding touches of seasonal color. In this case, we chose splashes of yellow for the client. The original travertine floors seamlessly complement the new custom cabinetry and natural stone backsplash. Accent lighting plays a crucial role, and the uniformity of the glass elements contributes to enlarging the space and infusing it with a sense of brightness and warmth.
Transcend Trends with Transitional Design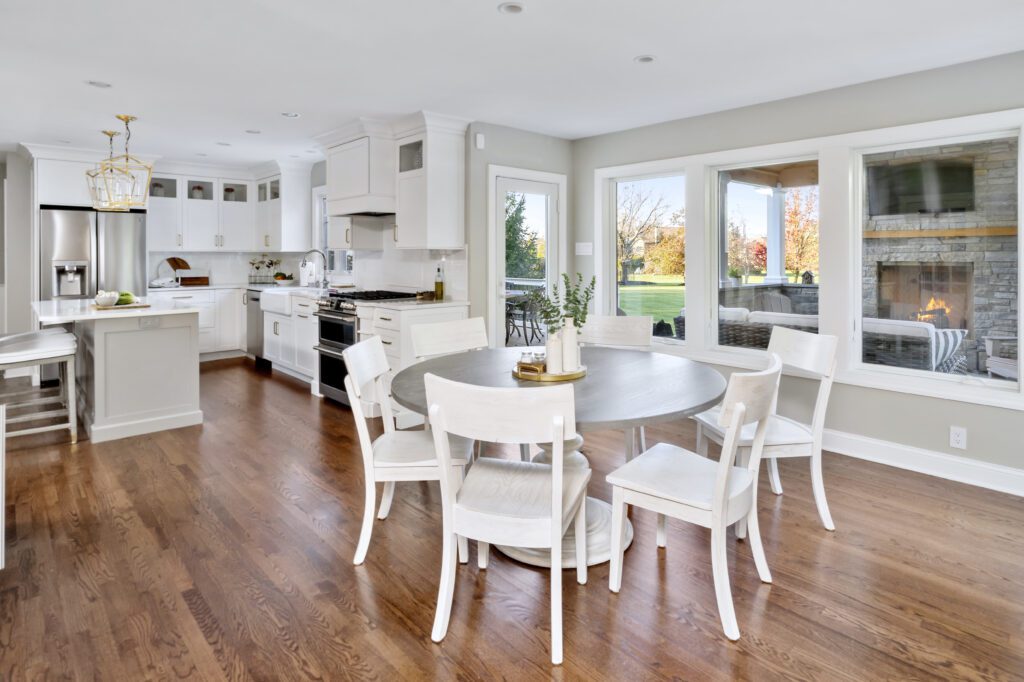 The white cabinetry in this family-friendly entertainment space adopts a more contemporary vibe, enhanced by non-mullioned glass on both cabinets and windows, streamlining the overall design. Classic elements, such as traditional hardware and elegant trim, introduce a touch of tradition, resulting in a transitional design for the kitchen.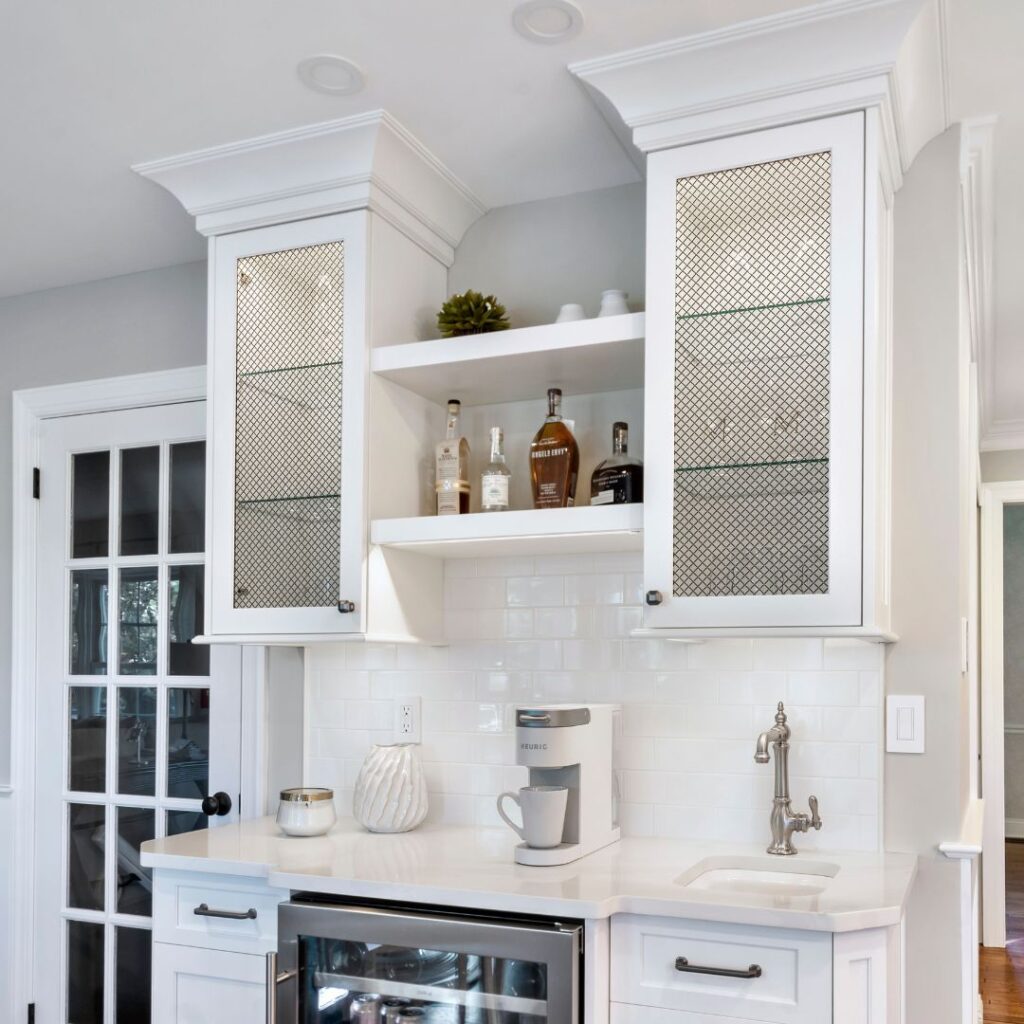 Soft details like the light gray island and metal screening in the bar sink cabinets add subtle nuances that contribute to the overall stunning appeal of the space.
Use Color and Texture in a White Kitchen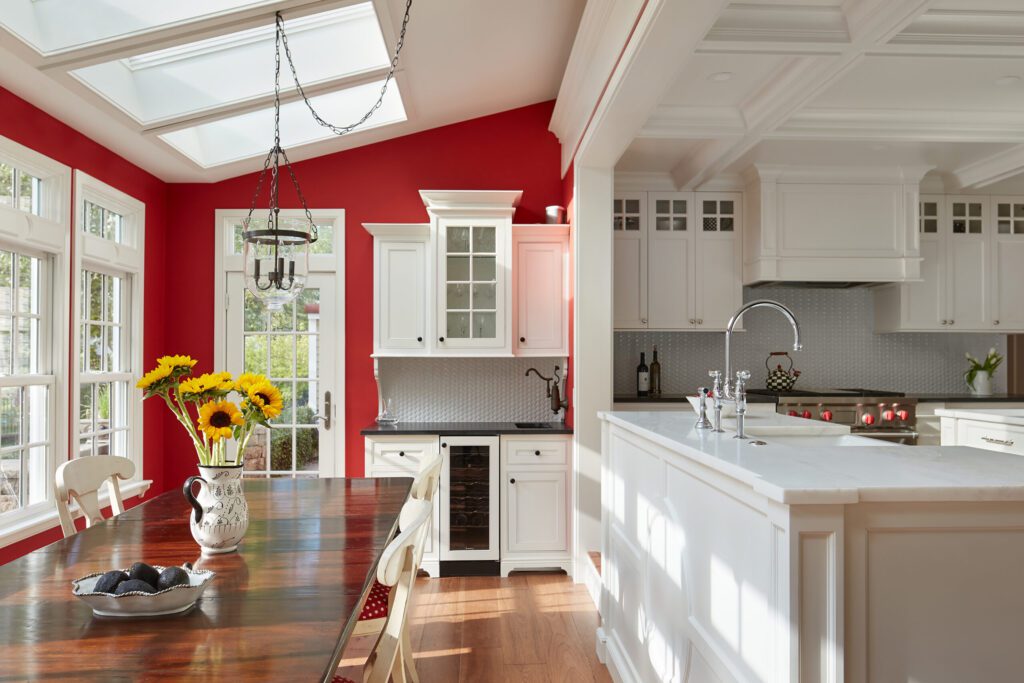 The coffered ceiling, wainscoting, and cabinet trims showcase classic Hampton-style custom woodwork.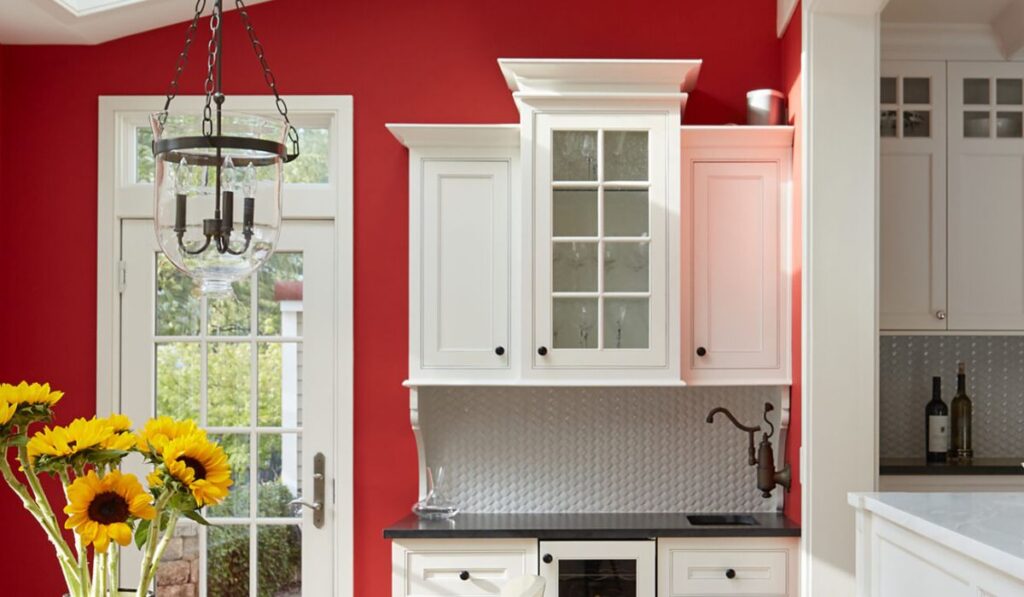 The backsplash, featuring a dimensional basket weave, reinforces the timeless patterns of a family kitchen. Black and white surfaces play a grounding role for the white elements, and the whimsical touch of red accents coordinates seamlessly with the hardworking Wolf range knobs.
Complement White Cabinets With Wood Accents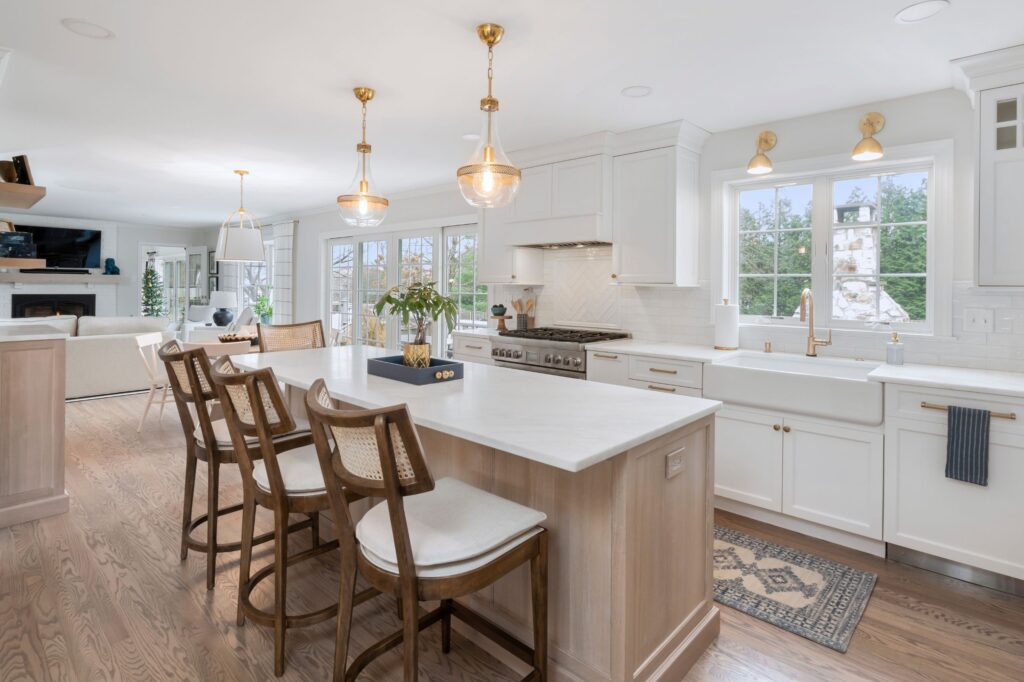 In this elegant family kitchen, a harmonious combination of soft white oak and brushed gold creates a beautiful aesthetic. The newly refinished oak floors, custom-stained to complement the cabinetry, make a stunning visual impact. The expanded French doors contribute to visually enlarging the existing space.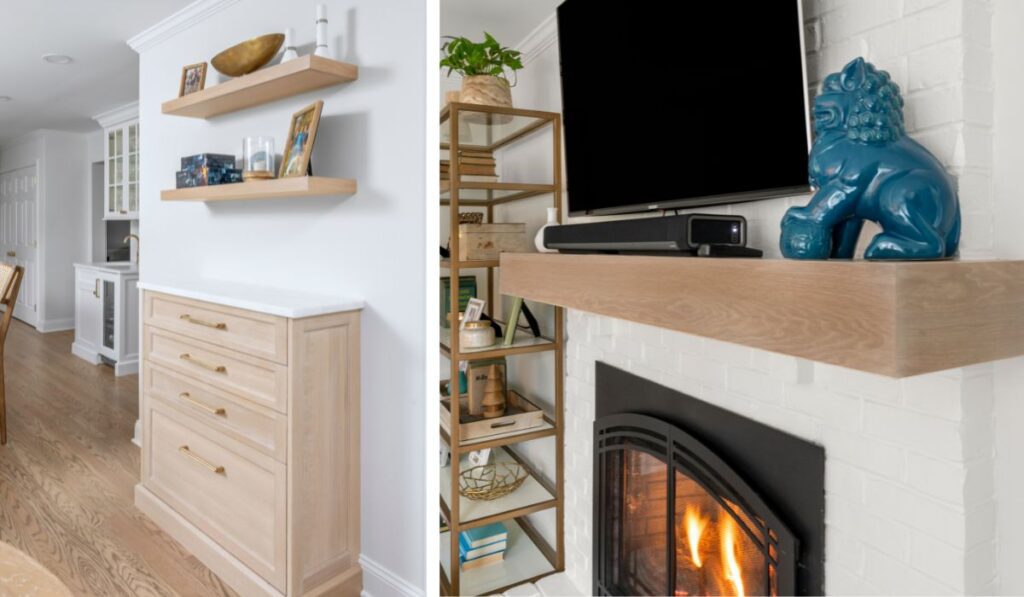 Mindfully placed white oak extends to features like shelves with a hidden recharging center and file cabinets, creating a sweet family workspace. The same oak used for these elements also replaces the family room fireplace mantel, ensuring a consistent accent color throughout the entire space.
Infuse Character With Rustic Charm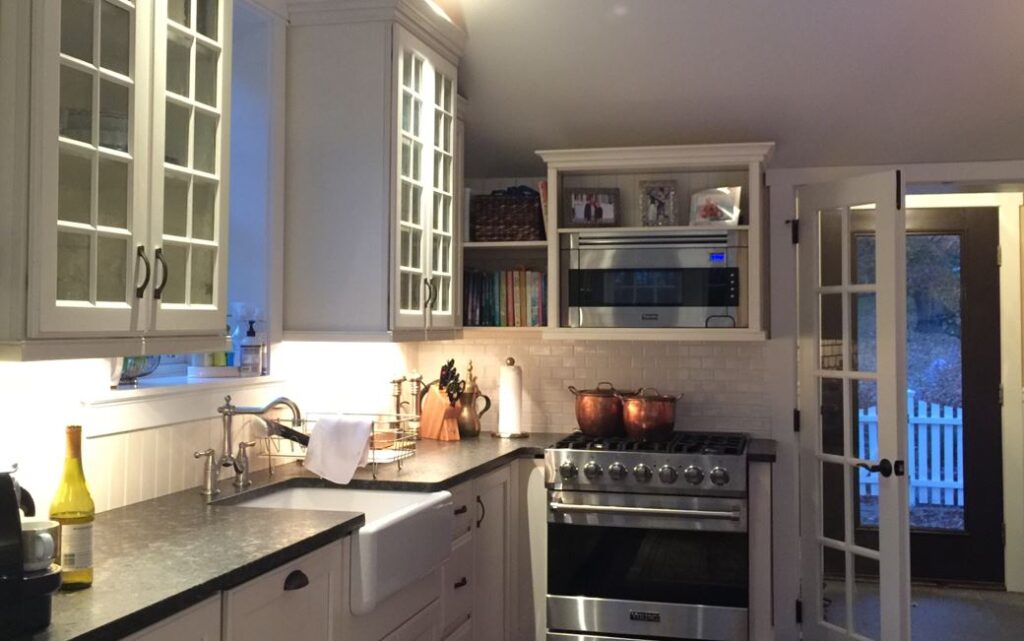 This charming in-law suite on a Bucks County farm estate exudes cozy warmth. Embracing the property's origins, country touches like a honed black granite countertop, beadboard, and bubbled glass contribute to a rustic atmosphere. The use of mixed metals is defined by a traditional faucet, bronze hardware, and copper pots.
In the world of kitchen renovations, the possibilities are as diverse as personal tastes. Your white kitchen can be a canvas for unparalleled creativity and individuality. From subtle rustic accents to bold modern statements, the key is to embrace the unique aspects that reflect your style. Whether it's a splash of color, textured surfaces, or distinctive hardware choices, these kitchen projects serve as a reminder that your white kitchen can truly stand out. Contact Creative Contracting to explore the possibilities for your renovation.