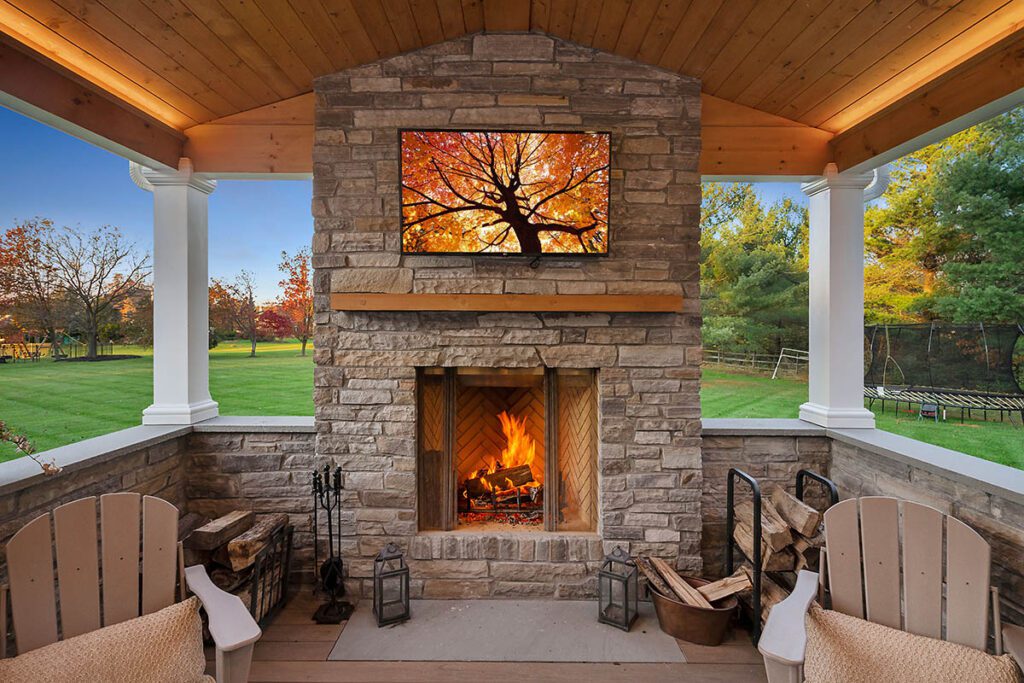 As the chilly winds of autumn roll into our region, curling up by a toasty fire feels like the perfect way to unwind. Our Lower Gwynedd, PA client wanted to expand their outdoor entertaining space from meager to magnificent. The homeowners wanted to keep the enjoyment going for many months out of the year, from sunny spring days all the way through to the first frost. So we designed a patio and deck area that brought together all of their favorite entertaining elements in one expansive space.
A Deck and Patio in Lower Gwynedd for All Seasons
To help our clients enjoy the beauty of the outdoors in their own backyard, we first blended a new open patio area in with a newly constructed covered deck. This provided both a place to soak in the sun on warm days and a living room space to retreat to when the temps cool down or there are spring showers.
To begin, we built a low-maintenance flooring base using Trex decking, in a warm wood grain tone. This composite deck option will provide the homeowners with many years of maintenance-free enjoyment. There's no painting, staining or refinishing required. Then we moved on to building the centerpiece of the outdoor space, a grand stone fireplace using natural stone in earth tones of gray, beige and brown.
Fireplaces Extend Outdoor Entertaining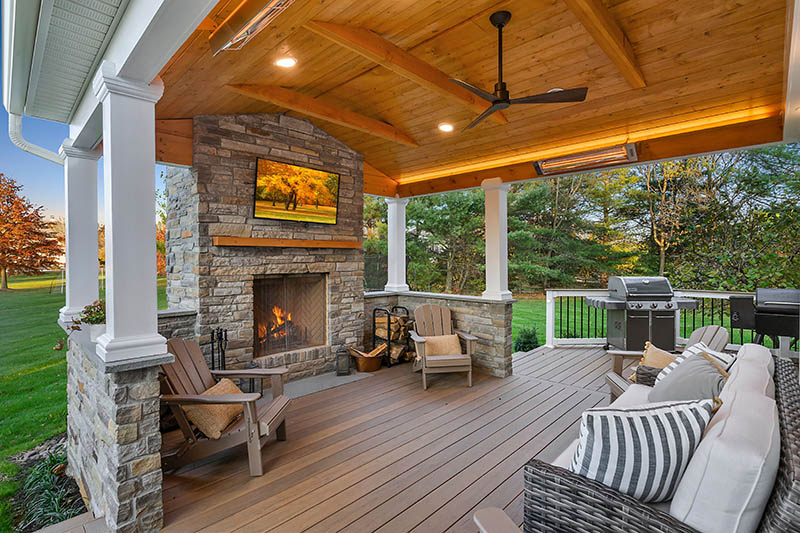 This beautiful fireplace, with its minimal natural wood mantle, will give the family a lovely place to curl up and enjoy the fall season. We're sure there will also be plenty of parties here whether it's game day for the Eagles or watching the Phils in the postseason. There's nothing like hearing the crackle of the fire as you gather with friends or curl up with a soft blanket and a warm mug of apple cider.
No area was overlooked. To further enhance the feeling of warmth in this outdoor living room, we added Azek millwork to the ceiling. Here, in warm wood honey tones, the ceiling becomes a gorgeous natural-looking focal point. It's accented by a gorgeous ceiling fan and heaters to ensure guests always enjoy optimum comfort.
Dedicated Spaces for All the Outdoor Entertaining Needs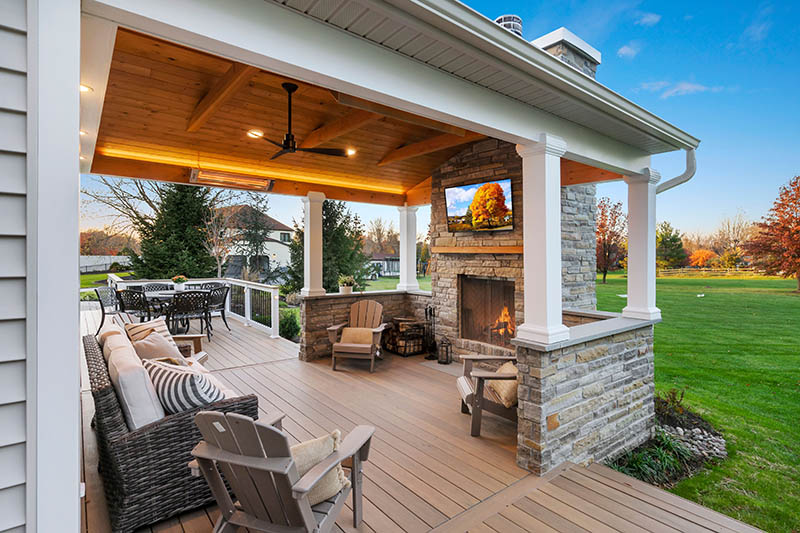 To provide plenty of space to entertain, the layout was designed to let everyone have room to relax. Here, the outdoor dining area is set off to the side allowing for ample living room style seating in the covered deck. Then a bump out was added to the other side of the living room to leave plenty of space for the family's outdoor cooking appliances.
Creative Contracting designed this remodeled deck space in coordination with the homeowner's interior remodel that included a new kitchen design. We made certain to take into account the flow of the interior space with the new outdoor areas. Windows, access and lighting were all considered in our detailed design-build process, highlighting excellent craftsmanship in both our interior and exterior workmanship.
Now our clients have a breathtaking place to host neighborhood parties, relax after a long day or enjoy family TV time by the fire. Where will you be watching the Eagles play next season? Now is the perfect time to start designing the outdoor living area of your dreams, so by next fall you'll be ready to unwind in your very own getaway space that's conveniently located right in your own backyard.
We loved creating this amazing outdoor space and wish our homeowners many years of fun, joyous times in their gorgeous new outdoor living room. Here's to many years of tailgates by the fire!
Go EAGLES!