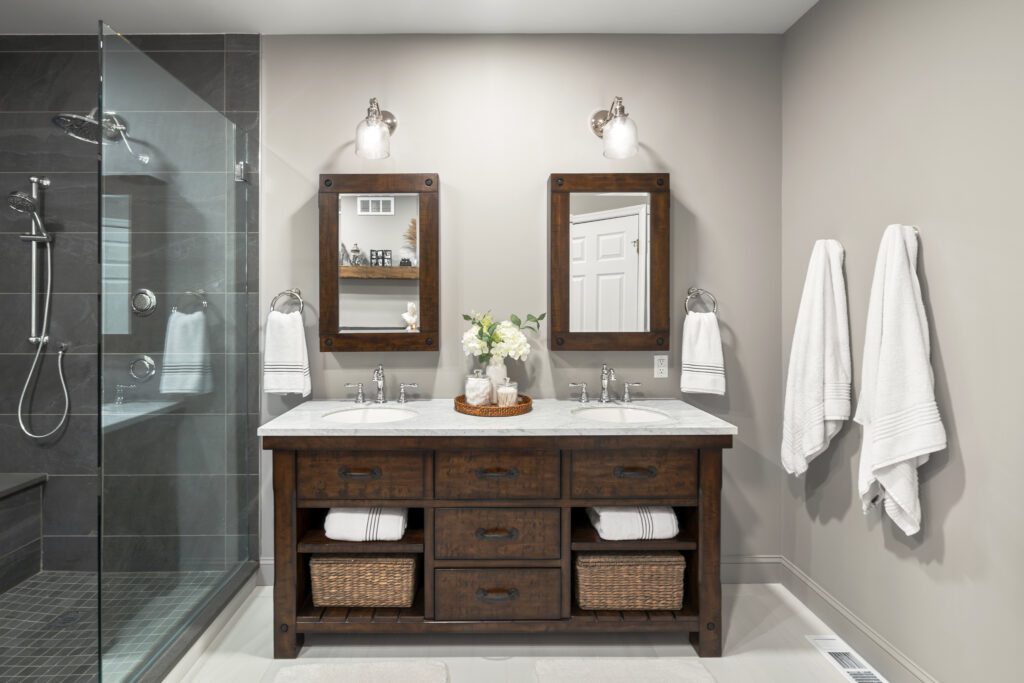 Recently the bathroom remodel we completed for our clients in Blue Bell, Montgomery County was entered into the 2023 Chrysalis Award sponsored by Qualified Remodeler and Kitchen & Bath Design News. We're thrilled to announce that this project was awarded the Chrysalis Award for the North region of the U.S. for projects with a budget between $50,000 – $75,000.
From start to finish, we're so proud of how our team listened to our clients' needs, designed around their budget and vision to completed the space with exceptional attention to detail. We detailed our approach and how our design-build process allowed for a seamless transition from concept through construction and finally to the stunning finished result.
A Sensational Bathroom Remodel Takes Shape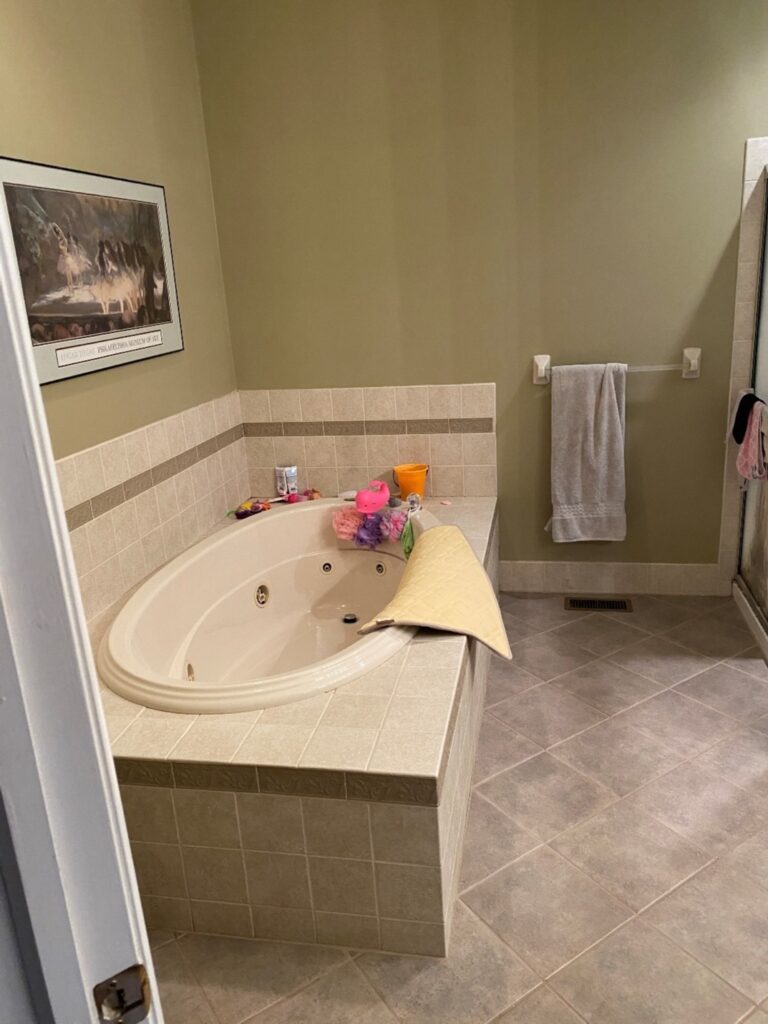 Our Blue Bell clients came to us wanting to give a new, more dramatic look to their dated, beige bathroom which lacked space and functionality.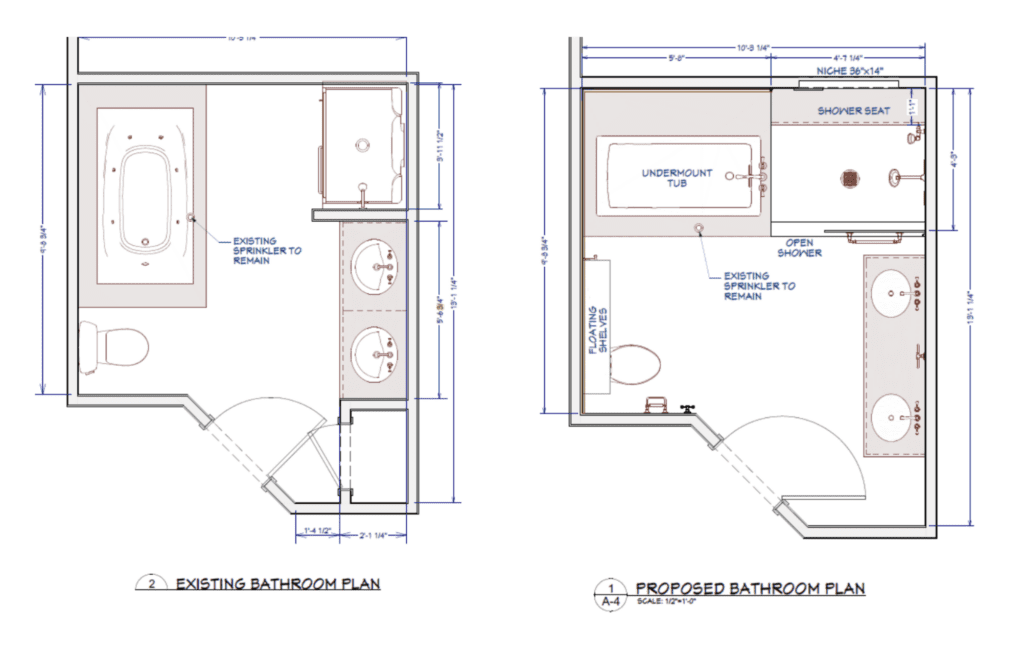 The homeowners wanted to swap their old jetted tub for a sleek new soaking tub and bring more style to their basic shower stall. The scope of the remodel would require a complete gut of the entire bathroom in order to bring our clients' vision to life. Their goal was to create a transitional-style bathroom with the welcoming touches of furniture-style cabinetry paired with state-of-the-art technology such as a Bluetooth controlled shower and body sprays.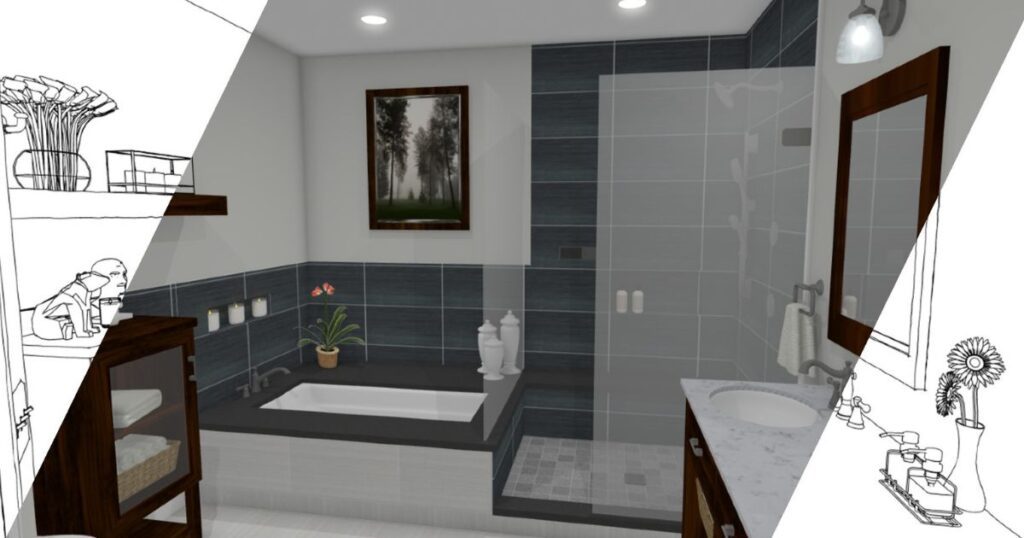 After presenting a floor plan, we then began to bring this bathroom remodel to life using design software that allows us to create 3D renderings of the new space. This enables our clients to immerse themselves into the renovation before construction begins.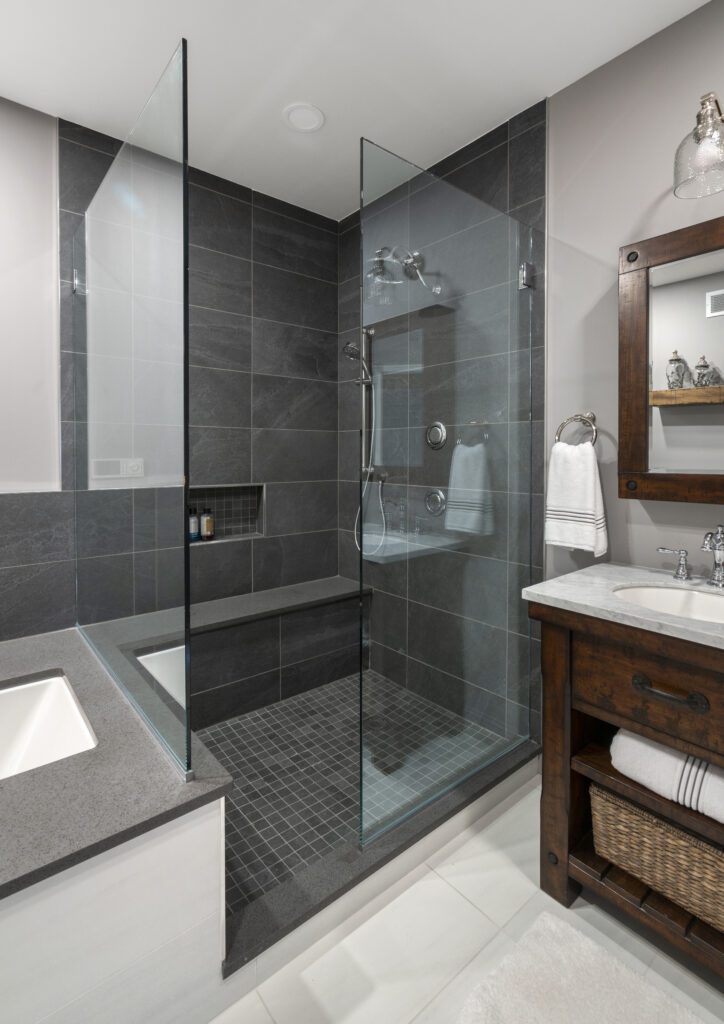 To create that rich, luxurious look our clients craved we paired a dark shower tile with a custom glass doorless entry to enhance the transitional aspect of the space. The pairing of traditional elements, such as the rustic cabinetry and black metal hardware, with modern touches, like the polished nickel fixtures adds a glamorous contrast that's visually captivating.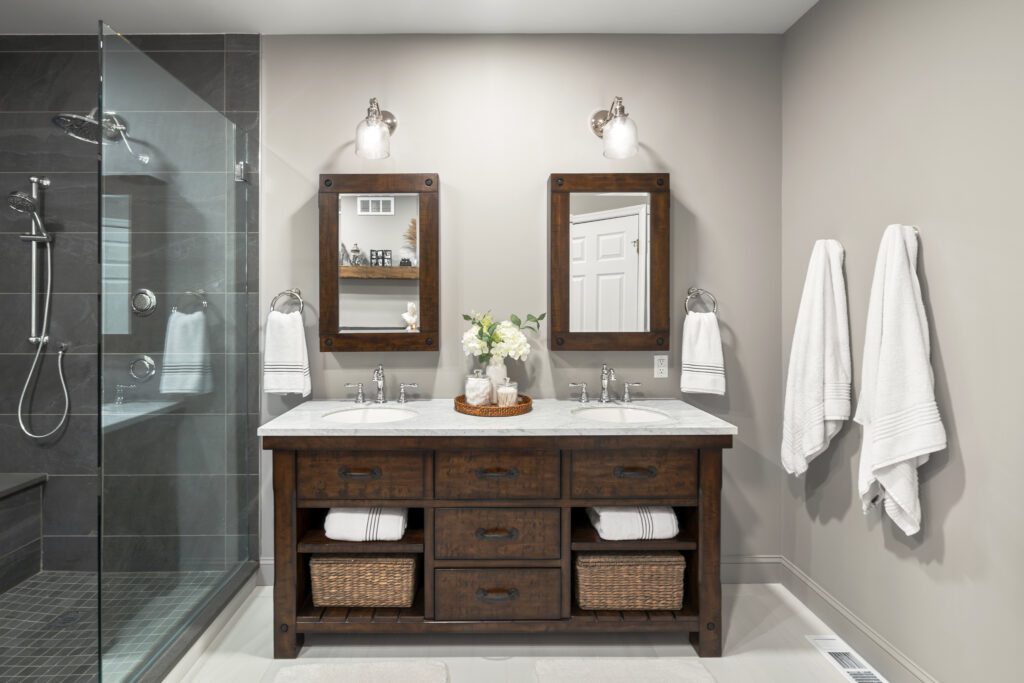 The black and white color palette with neutral gray walls and dark wood is soothing and sets the tone for a tranquil aesthetic that gives the bathroom an elevated level of sophistication and timeless beauty. We're proud to report that this project stayed within budget and our detailed design and planning allowed for a streamlined process that avoided last minute changes and costly delays.
Creative Solutions to Design Challenges
To not exceed the target budget, our designers needed to find a creative way to fit all of the spacious additions into the bathroom's original footprint. Part of these confines included needing to keep the toilet in its original location to avoid costly plumbing rerouting.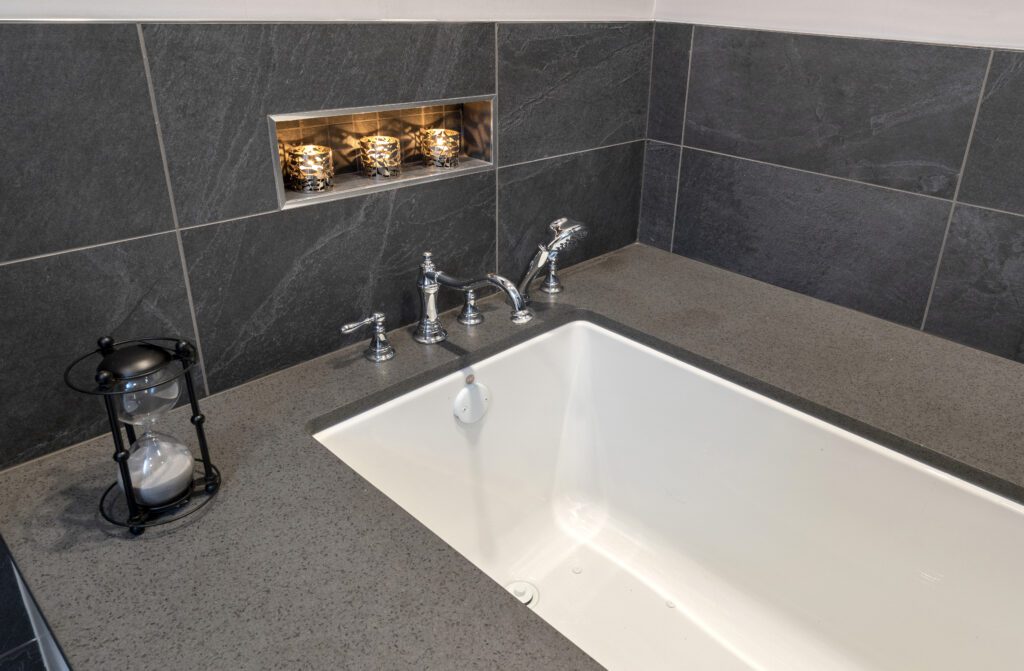 By eliminating an underused linen closet, we were able to add more space to provide room for the soaking tub, more spacious shower and the generously-sized vanity that our homeowners had their heart set on.
To give the space the elegant, dramatic feel that our clients requested, we brought in rich, dark tiles to ensconce the shower walls and surround the elegant soaking tub. Since the space is windowless, we offset these deep tones of the shower with a crisp white porcelain floor and luxurious Carrara marble countertops. With a combination of wood, stone and tile, the space exudes natural elegance and a harmonious style.
Building an Award-Winning Bathroom in Blue Bell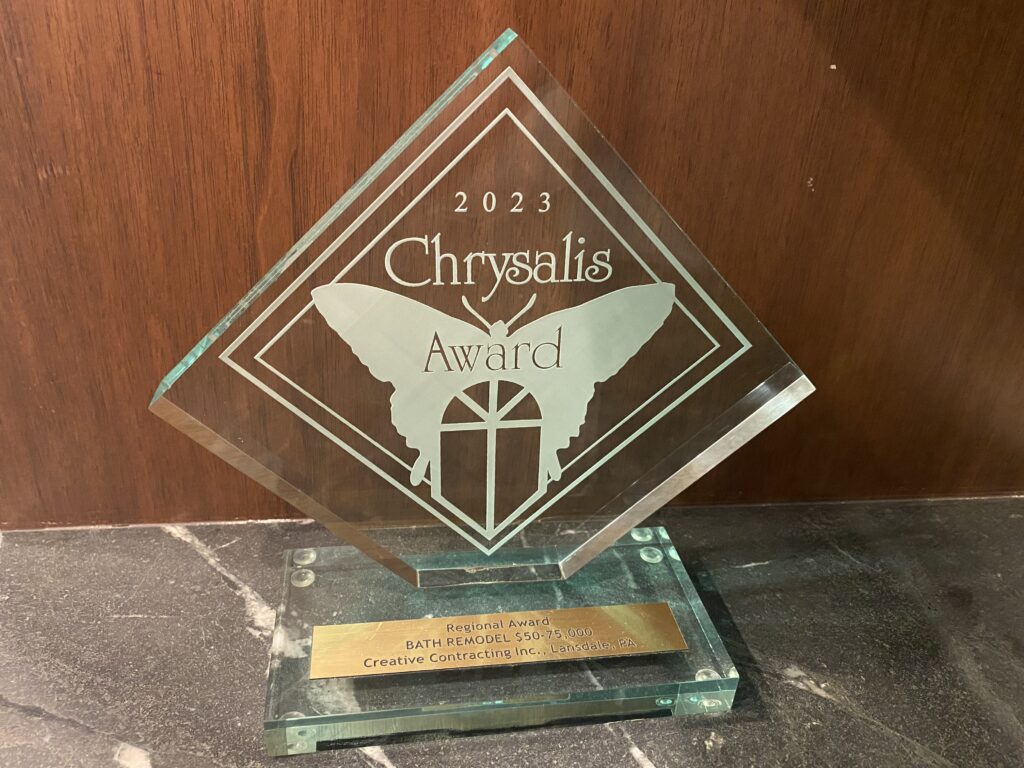 We're grateful to the judges who chose to honor our work on this bathroom remodel. But what means the most to us is how thrilled the homeowners are with their remodeled bathroom. Knowing that we were able to create a space that perfectly reflects the refinement of their personal style in a space that will be a welcomed retreat for the entire family for years to come, is what matters most to our team.
By redesigning the layout of this previously cramped bathroom, our team was about to include everything that was on our clients' wishlist while staying on budget. Our thorough design and materials selection process helped ensure a smooth construction phase and perfectly executed outcome. We look forward to creating more award-winning spaces for homeowners in Bucks and Montgomery Counties.