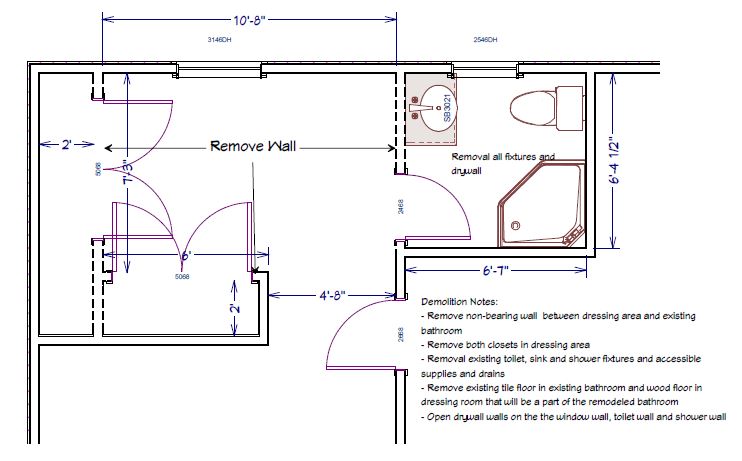 This is the original Master Bath floor plan of a two-story colonial home built in the 1960's. Notice a tiny bathroom with a single sink and a cramped corner shower. Outside of the bathroom was an awkward dressing space with two closets. The closet doors hinged into each other and much of the space was not easily accessible.
Before Pictures
This entire space needed to be redesigned to meet the wish list of a luxury Master Bath remodel and work within the most effective parameters for cost and disruption to the rest of the house. When at all possible, bathrooms should be remodeled with toilets remaining in the same spot as the original design, because moving the main sewage line is a complicated and expensive process. In this master bath remodel we also wanted to avoid making changes to the exterior home, so windows remained in their original location.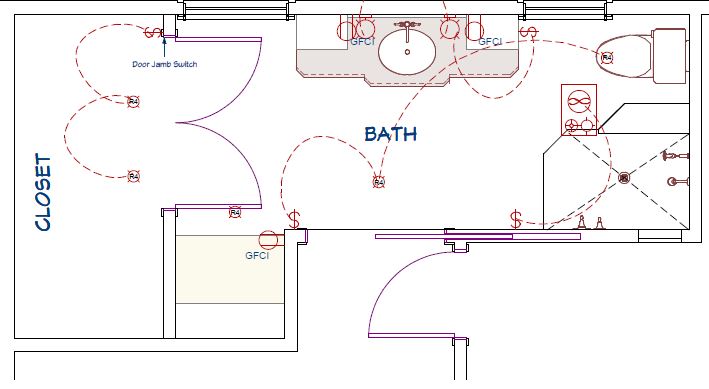 Luxury Bath Remodel Wish List
Shower with Bench Seating
Decorative Tiled Niche
Hand held and rainshower
Radiant Heated Tiled Floors
Custom Vanity with unique Design and Storage features
Uncut crystal accents (Hardware)
Redesigned Closet Storage
Custom cabinet storage for shoes and purses
New French pocket door to increase light in bedroom
The new shower's unique custom frame- less glass design allows for a little bump out shower seat while still providing easy access to the toilet. This bench was a tough feature to fit into this limited space, but the effect is beautiful and functional. Matching gray quartz in Silestone's Ocean Jasper is used for the niche, the bench and the counter top. The low threshold shower sill and decorative safety grab bars allow for easy access. The matching fixtures are all from Kohler's Finial Collection.
Storage Success
Any Luxury Master Bath Design should address storage issues. In this remodel we were able to reconfigure closet space to make a beautiful walk-in closet which was much more accessible and really enchanting. A crystal wall mount light fixture clicks on automatically when doors are opened. A gorgeous built-in cabinet is an accessorizing dream, designed specifically to house shoes and purses. The top mirrored closet cabinet houses a TV – out of sight, but easy access to catch the morning news.
The Vanity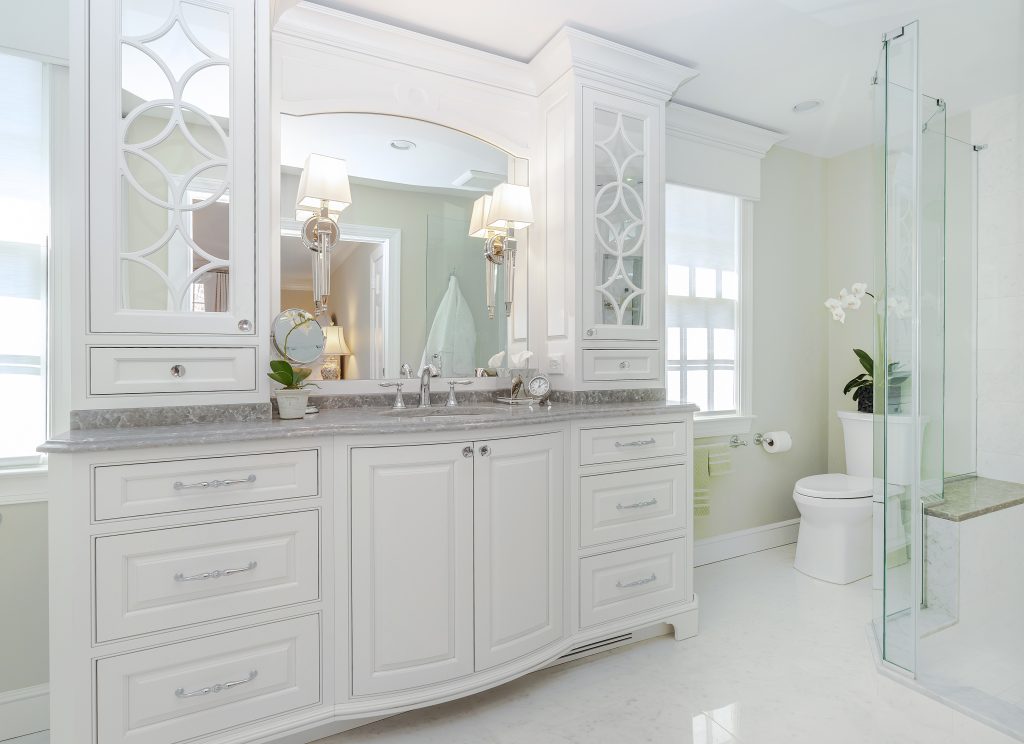 The wow factor in this bathroom remodel is the custom vanity. Spanning the entire wall between the two existing windows, it reflects the elegant luxury this traditional home needed to bring the bathroom into the new roaring 20's! A radius front and custom mullions are superb craftsmanship details. Crystal knobs and light sconces are tastefully glamorous. Exquisite trims are used throughout the bathroom and blend seamlessly into window valances that house the blinds. Outlets placed strategically inside drawers, and cabinetry, keep counter tops clutter free. The color palette is clean, soothing and creates the ultimate spa feel in this crazy world. Luxuriating at home promotes a sense of peace and well-being that cannot be undervalued.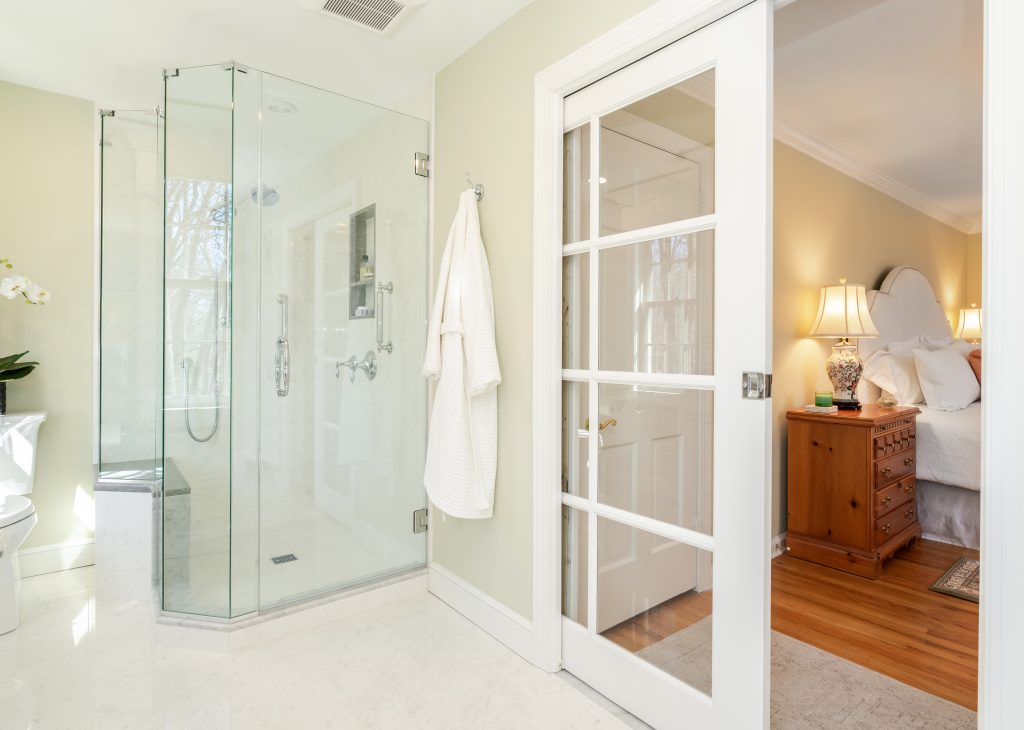 Bedroom Transition
When contemplating your luxury master bath remodel, it is essential for the over all feel to establish a smooth connection between the bedroom and bathroom. In this particular home, the client chose to have a very simple color scheme of white and pale-moss green. New curtains and a custom upholstered head board were made with matching white on white fabric. The curtain finials echo the uncut crystal accents of the bathroom. The large scale French Door lets light flow into the room, while defining the space. Peace and luxury, comfort and privacy are all integral in this beautifully remodeled master bath.