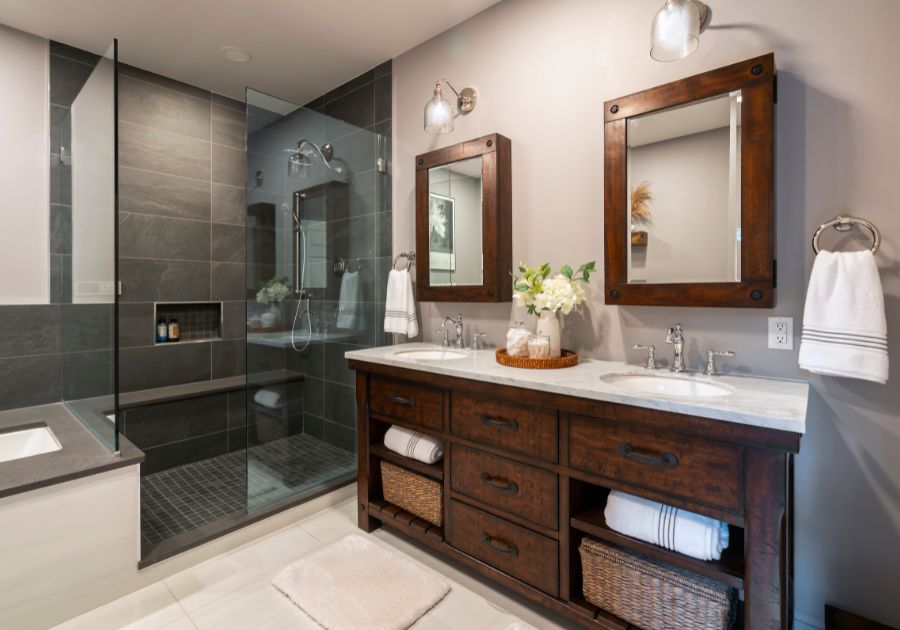 Our Blue Bell clients came to us wanting to update their primary bathroom, which at the time featured a closed off shower stall and oversized tub. Since this was the family's primary bath, we wanted to make sure it delivered plenty of opportunities to rest and relax while providing major functionality. It was important to the family that the needs of their twin daughters were kept in mind throughout the design process. To make this space special and unique, we brought in all of the bells and whistles with the latest in bathroom technology and high-end style, let's take a look!
A Shower Built for Style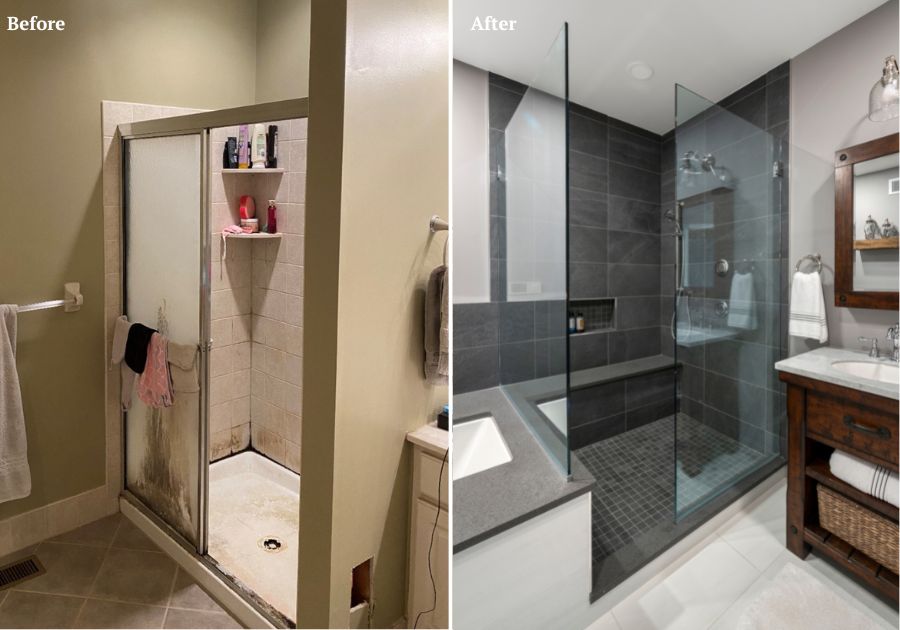 This Blue Bell home's original shower felt more like a closet. It was confining, difficult to clean, and had limited shelf storage. The homeowners stopped using their primary shower because of all the limitations of the original design. By reconfiguring the bathroom space and shrinking down the footprint of the tub area, we were able to give the homeowners a more open feeling, spa-like shower. We swapped the old shower's small square beige tile for large-format rich, dark gray and black marbled porcelain tiles. This instantly made the space feel much larger and more refined.
We continued that color motif on the smaller shower floor tiles, which replaced the previous space's shower pan. To bring both fun and therapy to the area, lots of different shower heads were used, including an oversized main shower head as well as a handheld option and several built-in jets.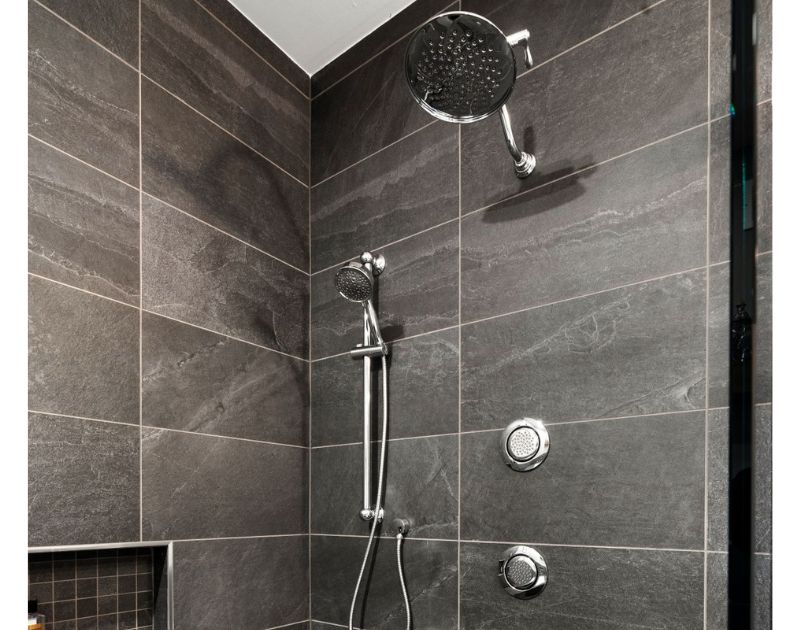 This is all brought together with high-tech convenience by a Moen digital shower controller which can be controlled through a mobile app featuring preset temperature control. Now the family never has to spend extra time trying to get the shower to that "just right temperature." We're sure that will make their mornings much more relaxing. A shower bench flows naturally into the tub area in a warm Storm Gray quartz. The shower space is completed with gorgeous glass panels that ensure the room always feels open and inviting.
Warm Woods Create a Natural
Bathroom Retreat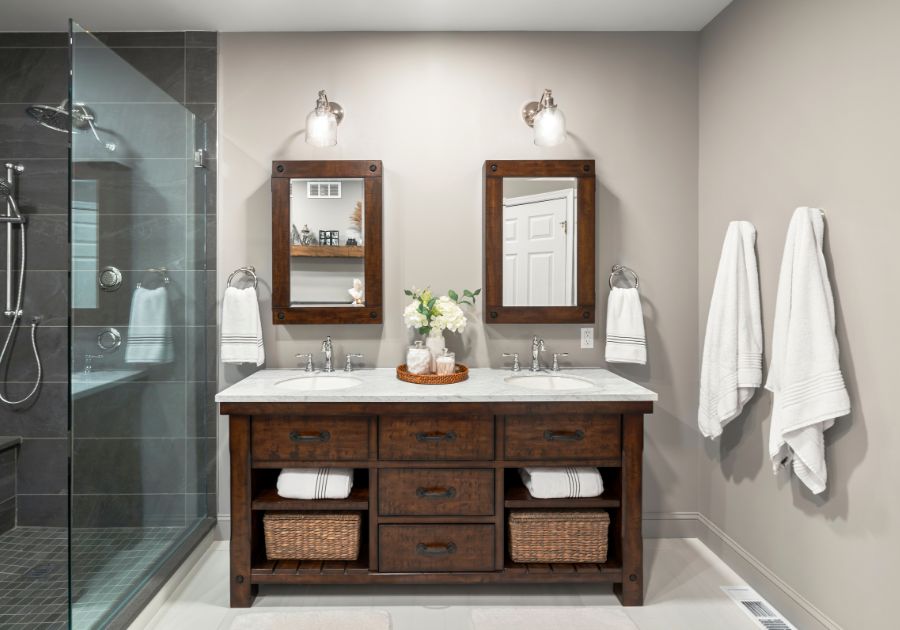 Wood isn't the first material most people think of for a bathroom design. However, it can work wonders in warming up and softening the hard lines of tile and stone. In their bathroom remodel, our Blue Bell clients chose a gorgeous Pottery Barn Vanity, generously sized with a double sink that features a neutral marble top and polished nickel finishes. This vanity, with its many drawers and storage shelves is truly a centerpiece of the new bathroom, combining classic elements with modern lines and aesthetic touches.
The warm tones of the vanity were carried through to the matching mirrored bathroom cabinets. On the opposing wall, we added a rustic wooden beam shelf to pull the feeling of wood throughout the space. Here, the family can add decorative touches to personalize the room even further.
Transforming a Tub From
Oversized to Indulgent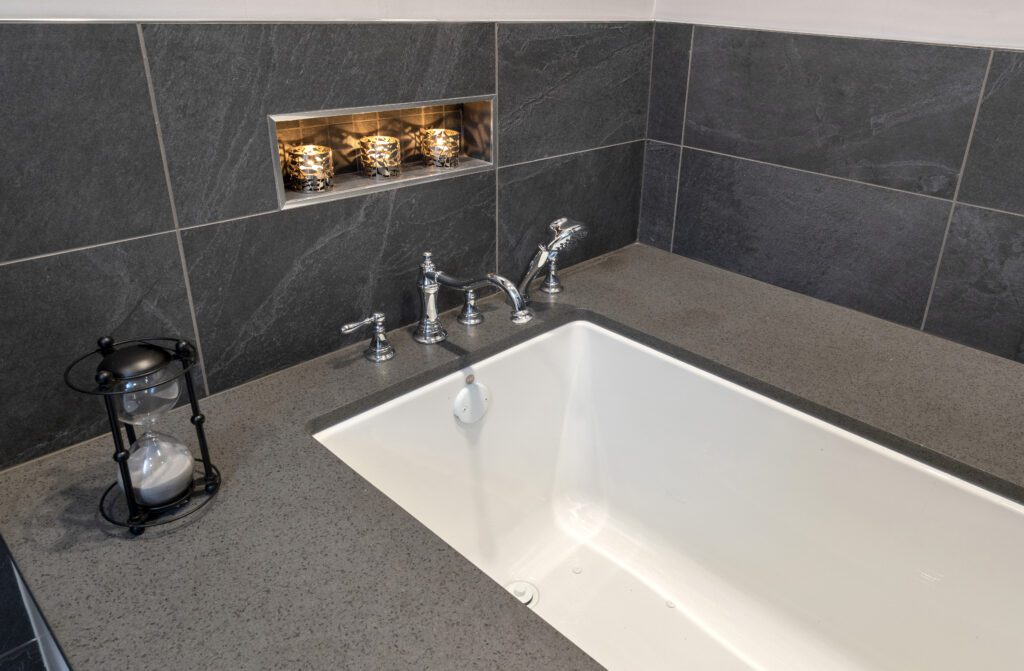 Bigger isn't always better, especially when it comes to bathroom tubs. The wrong tub can take up too much room and limit the functionality of the rest of the space. That is what our Blue Bell clients experienced with their out-of-date jetted bathtub. To take back some of their square footage and put it to better use, we added a spa tub, which provides all of the soaking opportunities for relaxation while using only a portion of the bathroom's floor space. This smaller footprint allowed us to give the family the best of both worlds, a roomy and relaxing shower and the space to sit and soak peacefully.
Creative Contracting Helps Build
Better Bathrooms
We were thrilled to give our Blue Bell clients their dream bathroom and we're sure they're looking forward to guests experiencing the space over the holidays and through the new year. We help bring your visions for relaxation and luxury to life, with a simple, straightforward process that prioritizes your family's comfort. Ready to soak in the experience of a fully remodeled bathroom? We're ready to get started.