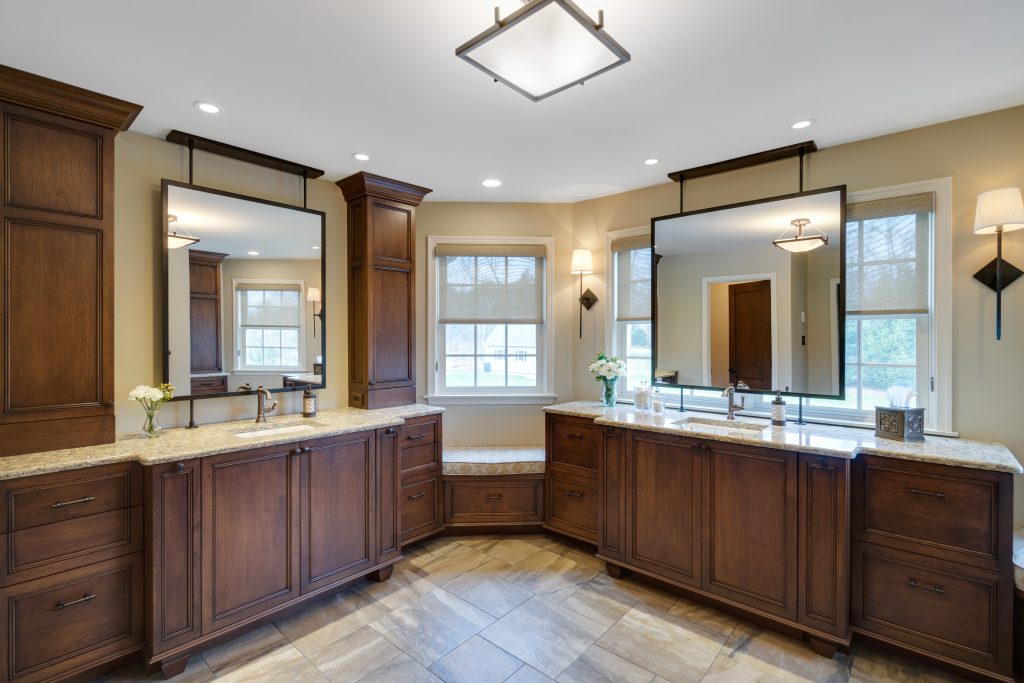 Bathroom lighting is often put on the back burner when making home improvements, but it is one of the places that a good lighting plan is especially important. There are times when bright task lighting is essential and times when a glaringly bright light in the bathroom is not the best choice – consider a late night call of nature. Having options in lighting, depending on needs and moods, is essential in the design of a new bathroom.
Here are some of my favorite options:
If you have room on each side of your mirror, sconce lighting is both a beautiful design and a good way to light up your face. The bathroom bar across the top of the mirror does not have the same level of design options, but it is a good practical choice. Recessed lights above the mirror are not optimal, because they create shadow, however if there is another good source of light in the room it may be a choice from an aesthetic perspective – some people really are not fans of the bars. Task lighting is important because those tasks that you perform in the bathroom – applying makeup and shaving – are much easier when you can see!
Recessed lighting is nice to have over the shower – and often over the toilet, which tends to be placed in a more private niche if possible, sometimes creating a closet like feel. Good lighting always makes a space more inviting.
Ambient lighting, such as chandeliers and semi-flushed mount fixtures are perfect in bathrooms as practical and lovely design features. Under cabinet baseboard lighting makes a perfect night light.
Make sure that all of your lights are on dimmers, that way you can easily just for tasks or atmosphere.
Below are some examples of bathrooms designed by Creative Contracting.