When you're a family who loves to cook and spend time together over a warm stove, every detail of your kitchen matters. Such was the case for our Wynnewood clients, who came to us wanting to transform their kitchen by adding in more light, as well as space for gathering and storing all of those cooking necessities. We got to work by presenting a design that the family loved, and from there, our team started meticulously transforming this traditional kitchen space.
Never Feel Left Out in the Kitchen Again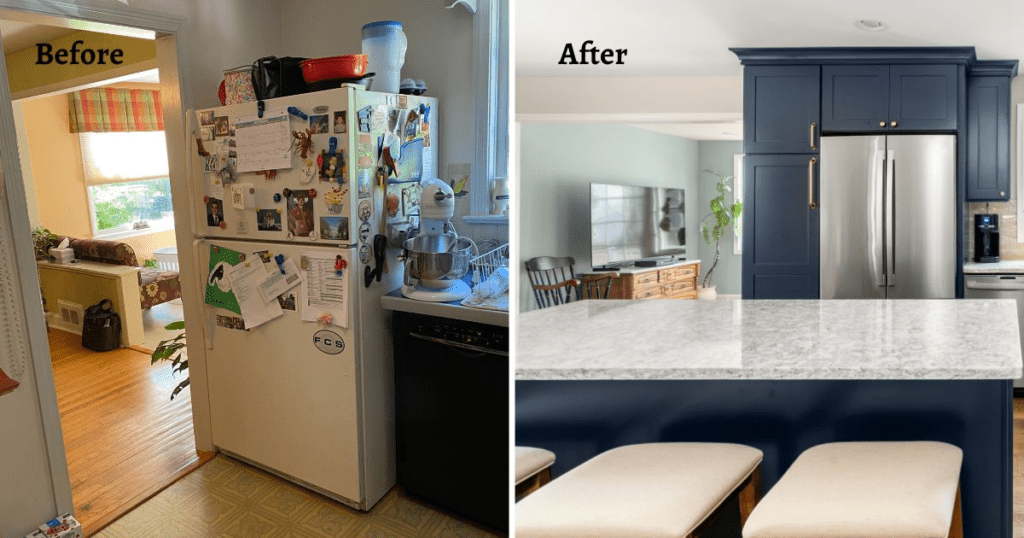 One major pain point we often hear from homeowners is in regard to a kitchen that feels isolated and cut off from the rest of the home. We're big proponents of opening up and unifying spaces to make everyone feel more connected. To achieve this goal at our Wynnewood client's home, we eliminated several walls that separated the kitchen from the other living areas. This immediately opened up the space, making it feel more open and airy, in addition to conveniently connected to the other rooms.
The Right Colors Bring a Kitchen to Life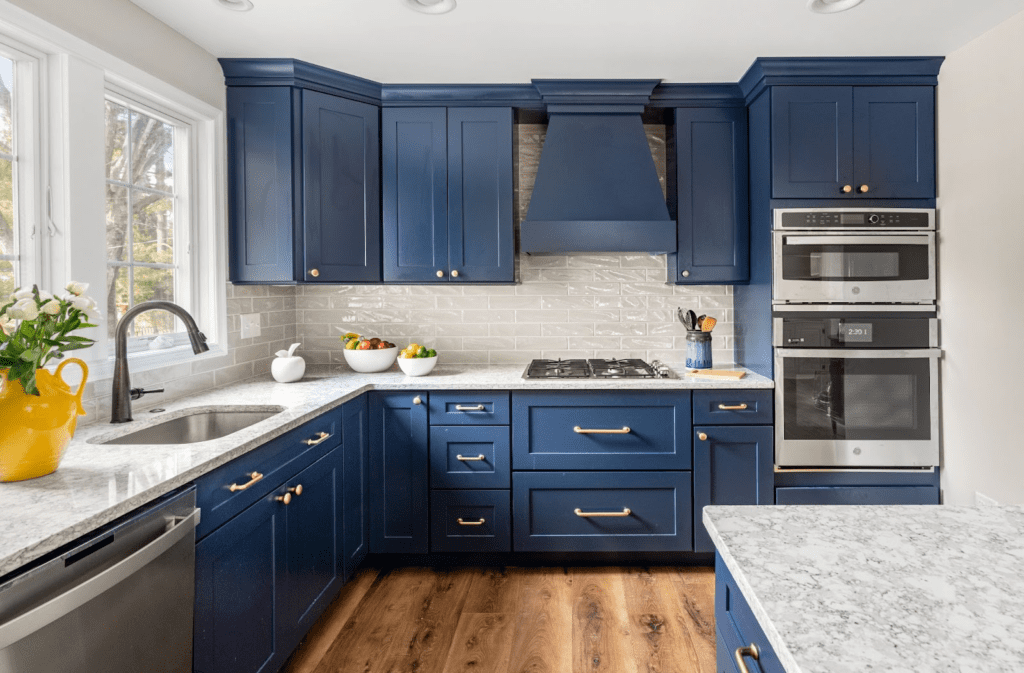 It can be a bit daunting choosing the colors for a new kitchen with so many options for cabinetry, countertops and decorative backsplashes. That's why we're happy to help our clients through the process. Our design team stays on top of the latest trends while having a strong background in timeless styles and designs. We're happy to show you renderings that help you to visualize what your new space will look like before committing to a decision.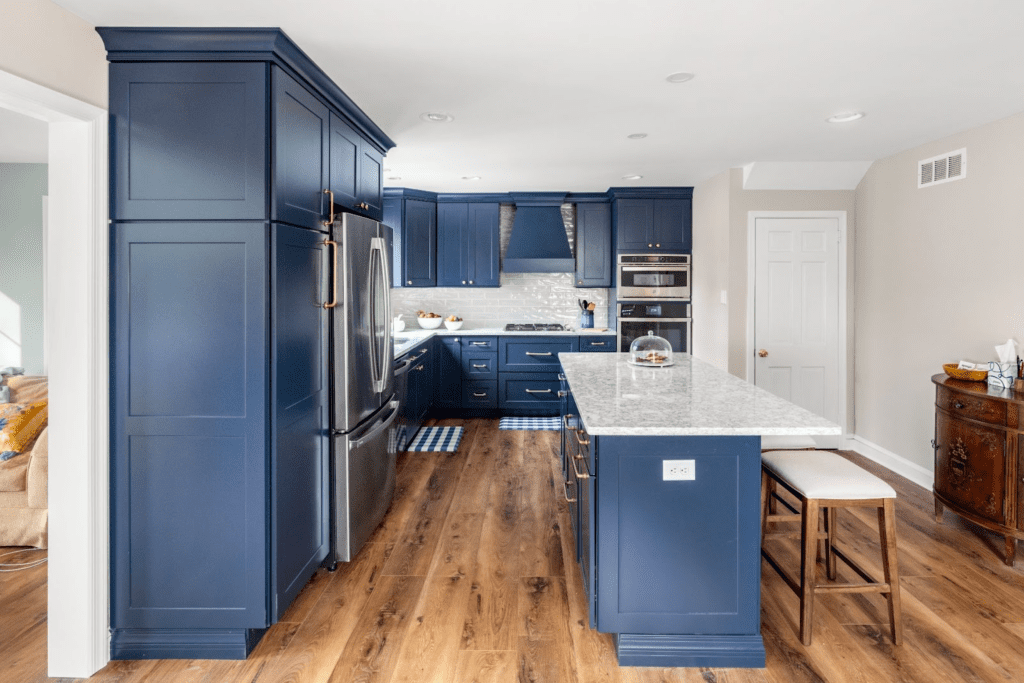 For our Wynnewood clients, classic navy blue cabinets were the perfect choice to create both a modern and elegant look. This same blue was used on the kitchen's new exhaust hood which sits atop the streamlined countertop burners. We complemented this rich color choice with sophisticated brushed gold drawer pulls. The look is further enhanced by sleek gray subway tiles at the backsplash, which feature a glossy glaze that catches the eye and lights up the space. To finish off the look of the room, we carried through the wide plank flooring into the kitchen, giving it a natural warmth that perfectly pairs with the deep blue and soft gray of the space.
Come Together Over Cooking Time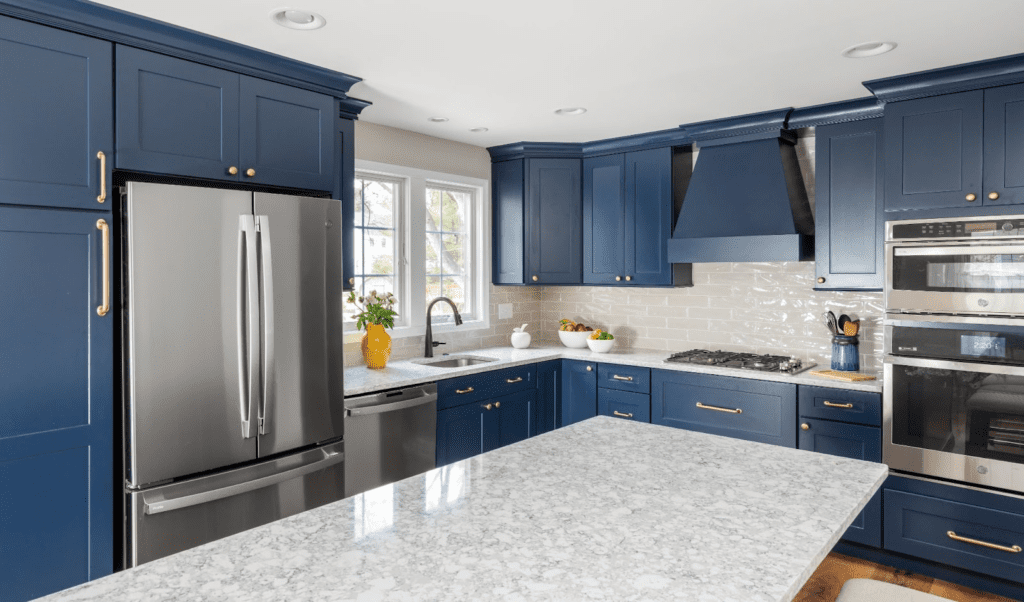 We knew our clients wanted to enjoy a kitchen space that provided room for every family member to gather at the same time. Whether it was chatting while prepping a weeknight pasta dinner or entertaining family and friends for the holidays, their new kitchen needed to be designed for memory-making. So we crafted a spacious island with plenty of space for seating and storage. We carried the gorgeous quartz countertop and navy cabinetry over to the island to create a cohesive and high-end look. Now the family can relax and enjoy each other's company while meal prepping together in their serene and luxurious new kitchen.
Are you ready to update your kitchen to suit your family's needs? Creative Contracting can help you visualize a bright, beautiful and color-rich space that's perfect for entertaining and gathering with family and friends. Contact us today to schedule a consultation!