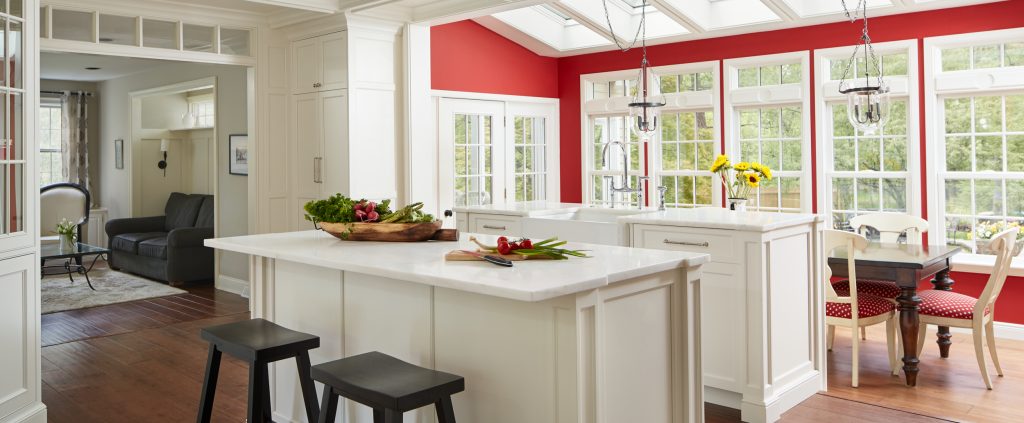 Kitchen Remodeling
The kitchen is the heart of the home, the center, the hub of activity. The best family memories seem to always reflect back to times spent preparing, serving and enjoying food with friends and loved ones. So when you decide to do a kitchen remodel, you are not only updating a utilitarian space, you are reimagining a space for the magic of future memories. So – let's talk about how the kitchen remodeling process begins.
First step for a kitchen remodel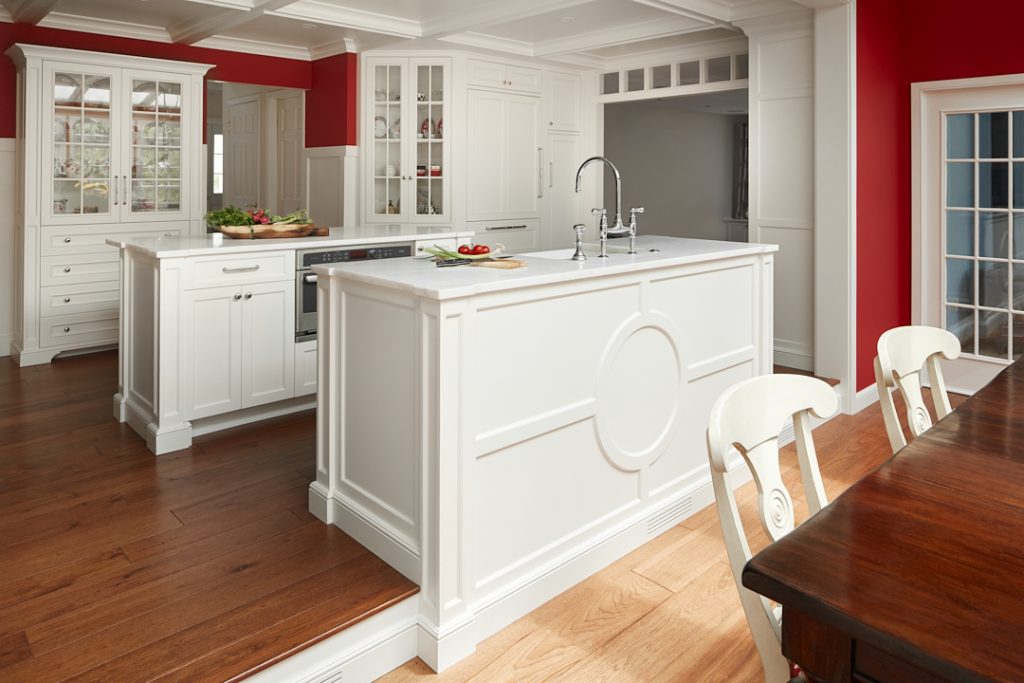 The staff at Creative Contracting have been remodeling kitchens for over 30 years. Our first step in any kitchen remodel is to ask a series of questions to determine the direction you want to travel on your kitchen remodel quest.
What do you envision for your kitchen remodeling project?
Do you want to update your kitchen with new cabinetry, countertops, appliances, and flooring, while keeping your original floor plan?
Do you want to enlarge your kitchen, incorporating existing rooms, or have you considered an addition to your home's space as part of your kitchen remodeling project?
How do you envision working in your kitchen? – A space for two or more chefs, a family work center with countertop space that is convenient for school or office work, or maybe a center for entertaining with friends and extended family. In any kitchen remodel it is important to have a clear vision of how you want your kitchen to function.
After we survey your thoughts on your kitchen remodel, we can begin to come up with a plan for how we enter the design phase. But before we begin the design phase, we will make sure that your budget is in line with your vision. We have the experience to give you an idea of the range of kitchen remodeling costs you need to consider.
Kitchen remodel design phase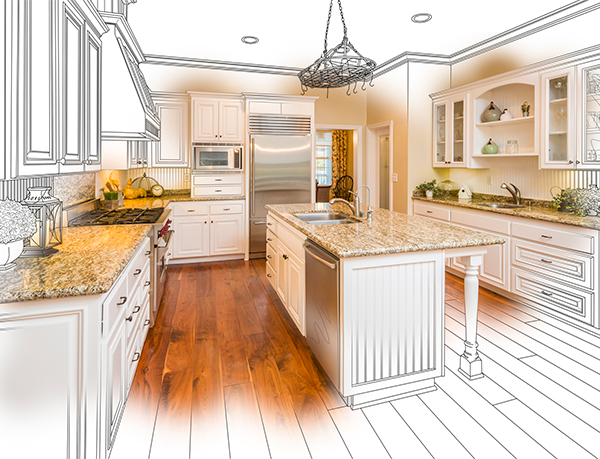 Once your budget has been decided and we have a plan in place for the direction you wish to take, we will begin the Design Phase of your kitchen remodel. With our technology, it is possible to do much of the kitchen design remotely. At some point it will be necessary to take detailed measurements. As part of our design process, we will develop floor plans of your existing lay out and then we will create drawings, with three dimensional details of your new kitchen. This is a process that requires several meetings (which can be accomplished on- line, if necessary) and working out the fine- tuning of your floor plan is essential before we begin the next part of your kitchen remodel journey.
Preliminary proposal for a kitchen remodel
Once the floor plans are approved and finalized, we will create a preliminary proposal. This is a very realistic cost of the scope of the work that is to be done based on your personalized design. We use numbers to create this proposal based on our many years of experience and the costs involved with material and labor.
---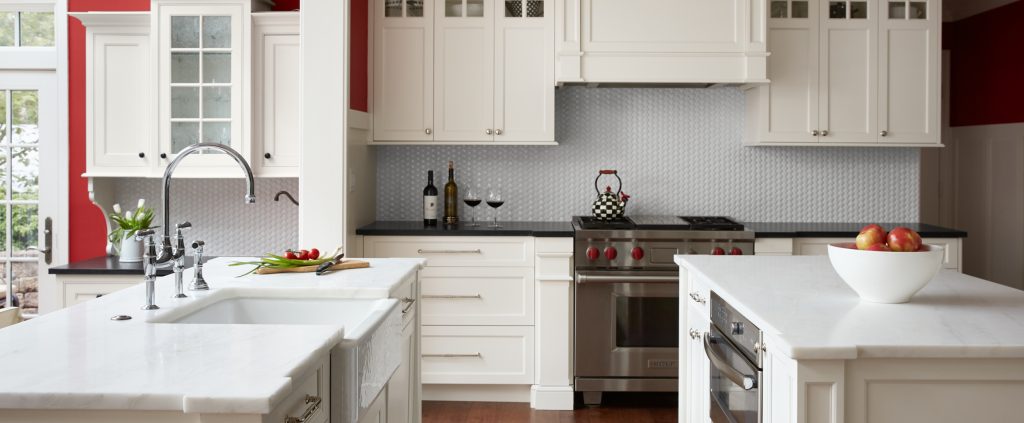 Now the fun part of the kitchen remodel begins. We will work with you to select all of the finishes that will make you kitchen uniquely your own! Our designers will work with you on colors, materials, style of cabinetry and all of the many decisions that need to be made before the building begins. We often ask you to find pictures of things you love on Houzz or Pinterest. We can usually get a feel for your personal design sense and help you with as little, or as much as you need, to walk you through your final selection process. Here is an example of our shopping list:
Flooring
Hardwood is extremely popular and the finishes in today's natural wood floors are extremely resilient. There's something about the warmth of wood that resonates across time in a kitchen remodel.
Laminate Flooring has come a long way. It is sometimes virtually impossible to recognize the difference with a natural wood. The carefree clean-up and rugged strength is especially popular with families who have kids and pets tracking through.
Porcelain and natural stone tile is also a timeless surface for kitchens. Designing your kitchen remodel with popular large scale tiles can create a sleek and seamless modern look with nearly invisible grout lines.
Cabinetry
Cabinetry is the most important selection that you need to make in any kitchen remodel. We generally try to narrow down the options for the cabinetry earlier in the process, but at this point we need to choose a path on the kitchen remodel journey – stock or custom.
Stock cabinetry is the perfect choice for many kitchens in terms of affordability and can work with careful planning in most kitchens. There are set sizes, finishes, styles and options, which can be manipulated to achieve the best functionality for storage and function. The options available in style and color are limited, but they are generally very popular options and look beautiful when the kitchen remodel is well planned.
With custom cabinetry – there are no limits. Cabinets can be built specifically for function and storage. You can choose any color, any wood, any finish, any size and any style or combination. Custom trims, such as coffered ceilings, shelving, decorative moldings and trim can all be detailed in our selection process. The sky is the limit to personalize your dream kitchen remodel when you choose to work with custom cabinetry and millwork.
Whichever you choose – stock or custom, you will get very specific drawings and 3D designs of your final cabinetry selection. We will work to make sure that you understand how your kitchen will look and function. From where the silverware drawer is located to specialized dog food storage and every possible area of concern in between, we are here to ask the right questions and to find a spot for that KitchenAid mixer!
Countertops
What is a kitchen without counter space?! In a kitchen remodel we want as much counter space as we can get and we want it to be beautiful and functional. A big decision in our shopping excursions is finding the best countertops.
Natural stone is beautiful, random, and has some care restrictions. Quartz products are manufactured from natural stone but are more consistent in color and lower maintenance. Wood countertops are charming.
If you have a question about countertop materials, we can answer them. We are always on the lookout for new products and innovative ways to use tried and true options. Countertops are the crowning jewel of any kitchen remodel.
Backsplash
Backsplash tile bridges the gap between cabinetry and countertops, both from a functional aspect and a design aspect. We will work with you to make sure that your backsplash selection adds the depth of finishing detail that will add the final pop to your new kitchen remodel work space.
Fixtures
Farm sink or stainless steel? Bridge faucet or hands-free? Water filtration or insta-hot? Definitely get the garbage disposal counter button. Again we will ask the questions to make sure that you have the right fixtures for your kitchen remodel.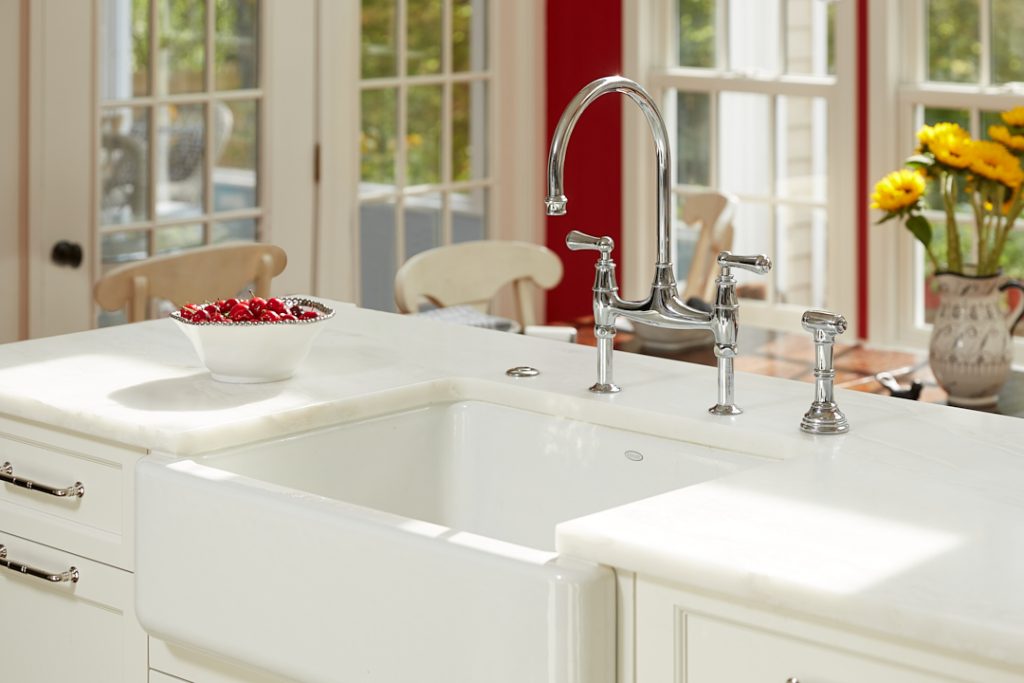 Appliances
Although we do not sell appliances, we need to know specifics and can help advise you through the design process. We have contacts in the industry to help you find the best deals and educate you on the newest technology. We can even arrange for you to have a delicious and educational meal at a cooking demonstration at the Wolf/SubZero contractor showroom. Doing all this kitchen remodeling works up an appetite.
Finishing Touches
Paint Color
We are happy to help you choose a paint color that coordinates perfectly with your selections. We have artisans who can show you an amazing array of decorative options using specialized techniques to totally customize your walls – no need for wall paper!
Hardware
Many designers consider the kitchen cabinetry hardware the jewelry accessories of a kitchen. We have a wide selection of finishes, designs and sizes. Whether your kitchen is modern, traditional, or somewhere in between, we can find the look that adds a stylized bit of glam to your kitchen remodel.
Lighting
As part of our design process, we will include an electrical plan. Lighting is so important in a kitchen remodel. Light fixtures such as chandeliers and pendants add another element to your personal style. Task lighting and the ambient glow of under cabinet and in-cabinet lighting create an atmosphere of sophistication.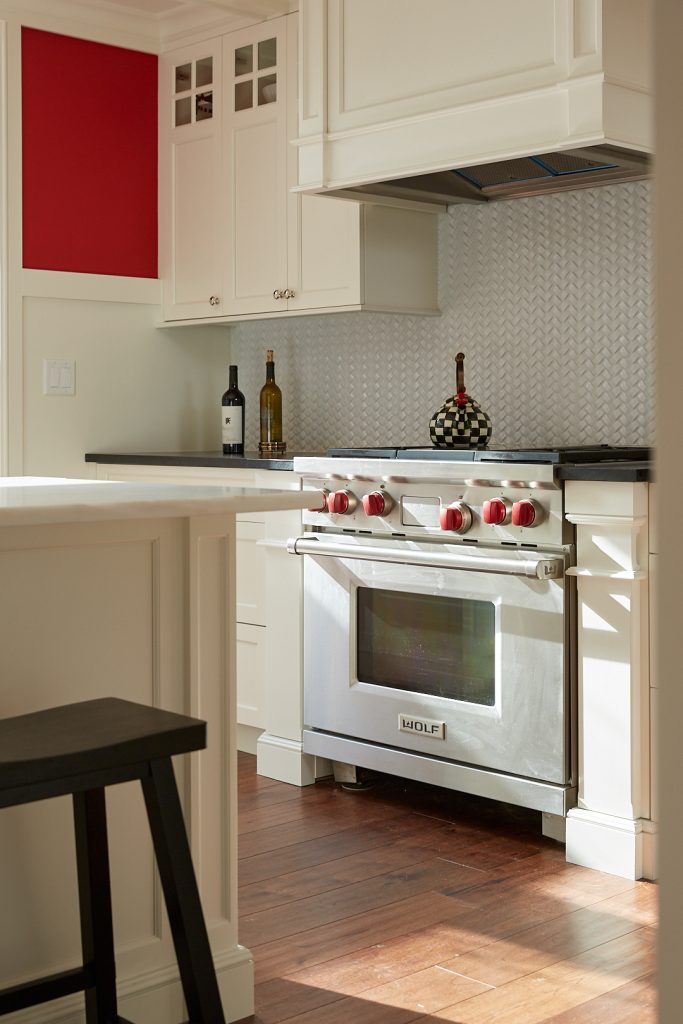 ---
We have everything selected – what's next?
Once we have everything finalized and specified, it's time to sign a final construction agreement. This is a very detailed and specific contract with the entirety of the scope of work, all of the detailed selections, a start date and a finish date. Our goal is to prevent any change orders. In the final construction agreement, there is a payment plan based on milestones in the kitchen remodel process.
Kitchen remodel schedule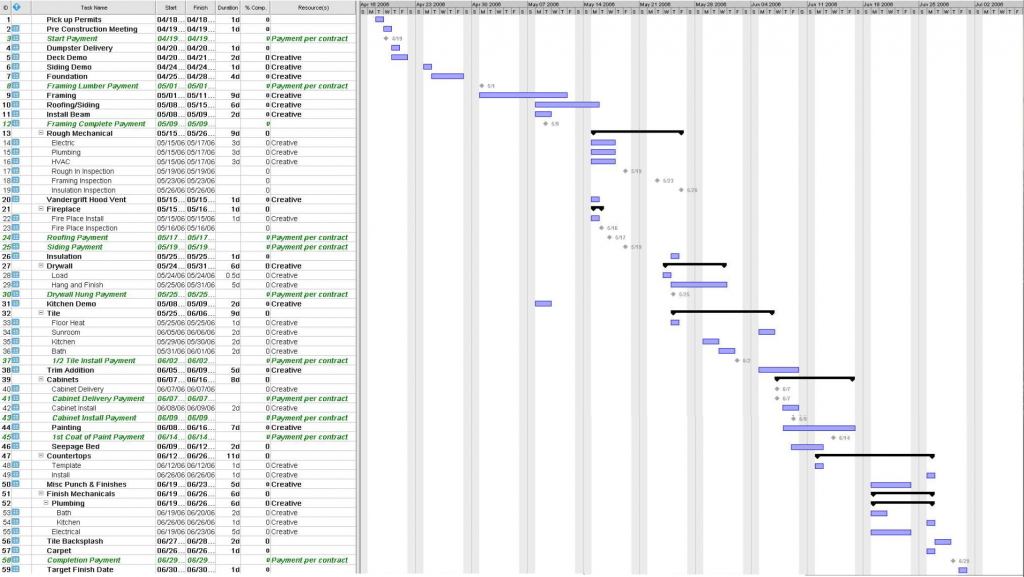 Next we will build a project schedule for the kitchen remodel. We will notify our trade partners of our anticipated schedule. All of the information for your personal kitchen remodel is accessible through an on-line tool to clients, staff and trade partners. All the materials will be ordered to be on site at the appropriate time.
There will be a production manager and lead carpenter assigned to your job who will guide you through the day to day progress with daily and weekly updates and answer any questions or concerns you may have throughout the kitchen remodel. We will work with you to make the kitchen remodel process as easy as possible. We use protection on floors, and zip walls to limit the dust as much as possible. Keeping everything as clean as possible and following proper safety protocol is now more important than ever.
Pre-construction meeting for a kitchen remodel
The lead carpenter, production manager and sales designer will meet and go over the contract line by line, walk the site, determine the best place for a temporary kitchen (microwave, accessible sink etc.) review the schedule, and agree on site management; for example, the location of a dumpster and the storage of delivered materials. They will also discuss starting times and individual family situations, such as escaping cats.
Demo day
Now we are off and running! Be prepared for life without a kitchen for approximately 6-8 weeks.
Kitchen remodel complete
Every item has been checked off the punch list – our kitchen remodel journey has ended. It is time to begin to create all of those wonderful moments that will be the absolute, best, future memories!
Afterwards
We offer a five year warranty on labor and materials provided by Creative Contracting. We will check in periodically to make sure everything is performing as anticipated. But we will miss you – how do you feel about your master bath?